For years people have been telling me I am an adventure traveler. But what is adventure travel?? How do you know if you have the right to call yourself an adventurer?  Do you meet the criteria for adventurist? Better question. Who decides?? Now that we have established that there are more questions than answers surrounding this, let's take a look at the definition of adventure.
Merriam-Webster defines adventure as follows:
noun
1a: 
an undertaking usually involving danger and unknown risks
b: 
the encountering of risks
2: 
an exciting or remarkable experience
3: 
an enterprise involving financial risk
 verb
adventured
; 
adventuring
\ əd-​ˈven-​ch(ə-​)riŋ  \
transitive verb
1: 
to expose to danger or loss
2: 
to venture upon
intransitive verb
1: 
to proceed despite risk
2: 
to take the risk Take note that none of these definitions identifies any particular activity as an adventure. I point this out because I've been rebuffing the idea that I am an adventurer for years.  I do this mostly because I don't want to give people the idea that I backpack across places like Patagonia. Or ride my bike in Moab. Or even that I visit destinations so that I can kayak Class V rapids.  Nope! I don't fit into any one of those categories however, I walk frequently and quite a lot, especially when I travel. While I ride a bike but I'm a low-lander. No mountains for me. And while I love the water, Class V rapids are outside my comfort zone.
Why I Call Myself an Adventure Traveler
So, what would make people think I am an adventure traveler? Well, if I had to guess, I would say it is because I am fairly risk-tolerant. Here's what I mean. First, I'm not afraid to travel places others may avoid. Egypt and
Turkey
are examples of this. In fact, I credit my trip to Egypt for my higher threshold of where I consider safe. See, I visited Egypt when no one, and I do mean almost no one was traveling there (think me and a few men going there because they were deployed or to conduct business and no one else on the plane. Certainly, no American women). This is because I was visiting
Egypt in 2011 during their Arab Spring
(Revolution). People often ask me if I was scared. Of course, I was uncomfortable. Traveling to the safest places can be disconcerting.
The second reason people identify me as an adventure traveler is fairly simple: I enjoy doing crazy activities such as
ziplining in the Mayan jungle
, Stand Up Paddleboarding or riding ATVs in
Puerta Penasco
and just about anything I haven't tried before.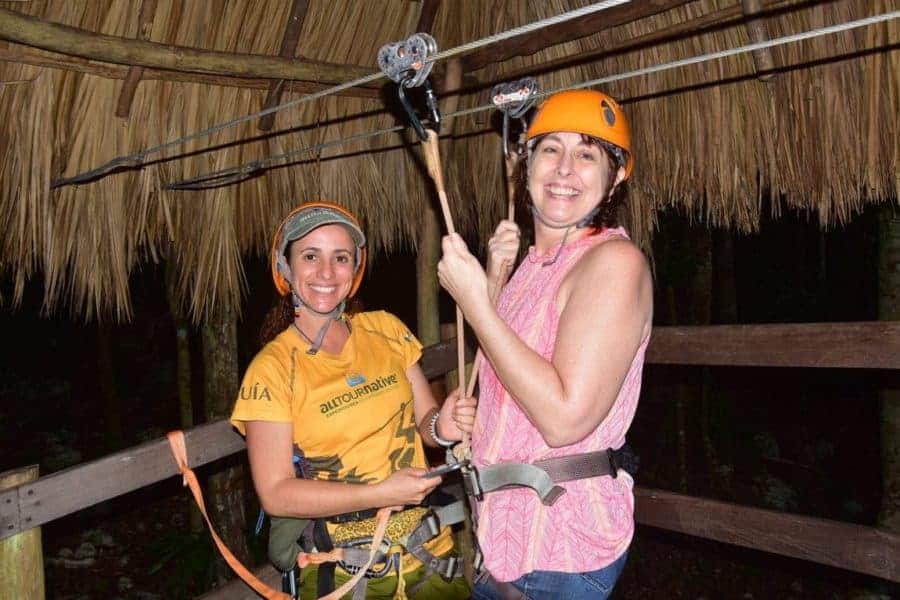 This isn't just true of when I am traveling. In my everyday life, I do things like Jet Ski, kayak,
jump out of planes
and ride wicked roller coasters. I guess you could say I am an adventurer. Travel just happens to offer us opportunities to do activities we may not do at home. It also affords us the time to do them without feeling as if we should be doing more responsible things.
How did I become an Adventure Traveler??    
I never said to myself, "I think I would like to be an adventure traveler." For that matter, I never said I wanted to be an adventure anything. However, I do think I am less risk-averse than some people. But I had some life events that pushed me in this direction. In 1995, at the age of 29, I was diagnosed with Multiple Sclerosis (MS), an auto-immune disease of the central nervous system marked by flare-ups and periods of remission (more advanced and progressive forms of the disease have fewer and shorter periods of remission). Growing up, I had a neighbor with MS and he was wheelchair-bound not long after his diagnosis (he had a more progressive form of the disease. Also there was little that could be done in terms of treatment then). I was acutely aware that this could be my future. This set me on a journey of taking risks in my life that I may have otherwise have avoided.
One of those challenges was competing in a triathlon. My first one was for charity so the idea was to raise money and awareness not to win. So, in that sense, there wasn't the risk of damaging my pride if I didn't finish or if I finished last. And it was a darn good thing because within the first couple weeks of training I fractured both my tibia (bone from the knee to the ankle). This was unexpected. I thought the challenge would be my MS and pacing myself so I didn't cause a relapse of the disease. Needless to say, I didn't place anywhere near the front of the pack. I could have stopped there but I did go on to do several more until my illness tripped me up.
Physically challenging myself despite my disease probably helped me prepare for adventure travel. It helped me realize that I could do physical activities that maybe I or others thought I couldn't or shouldn't. That mindset combined with not wanting to miss out on all the new experiences travel provides set me on a path to becoming an over 40 adventure traveler. My attitude was, do it all while you can.
Why YOU are an Adventure Traveler, too.
Life is an adventure. Some days getting out of bed is an adventure for me. Right? I bet you can relate. Let's head back to the definition of adventure. I want to point out that nowhere in the definition does it say an adventure must, in fact, be dangerous or risky.
I believe we all get to define what constitutes our adventure. If air travel is a fear of yours so you take a train or drive to your destination, you are an adventure traveler. If bungee jumping takes you outside your comfort zone but still you walk up to the platform, you are an adventurer. (As an aside, let me say, this is one of those things I can't imagine doing. The whole idea of it makes my aging body hurt. We all have our limits.) If trying new foods defines daring for you then that's your form of adventure. If riding a camel across the Sahara seems risky to you but you meet the challenge, you are an adventurist.  Don't let anyone dictate your adventures.
Recently, I was on a trip with Alexa from
52perfectdays.com,
a fellow over 40 adventurer. Rappelling was one of the scheduled active adventures. For Alexa, the idea of doing this was really outside of her comfort zone. But she faced her fear and did it anyway. Last year on a trip to
Memphis
I met up with Bisa Myles of Mylestotravel.com. Bisa has a fear of bridges. Despite her fear, she decided to walk the
Big River Crossing
. She recently returned to Memphis and went to the bridge for sunrise. She says it was less frightening than the first time. I was so proud of both these women for pushing themselves beyond what they thought they were capable of doing. They are both adventurous women in my book.
Adventure with Limitations
Whether we choose to admit it or not, we all have limitations. Those limitations may include chronic illness, past injuries, aging, fears (real or imagined) or a host of other restrictions. But those imperfections need not restrict us. However, this doesn't mean throw caution to the wind and be careless. If you have physical restraints you may need some special accommodations. There are programs that can help us realize our adventurous dreams despite our limitations. Here is a couple to consider. (I have not tried these so this is not an endorsement.)
Adaptive Adventures
offers exactly what their name implied. Skiing, snowboarding, rock climbing, and scuba are just a few of the active adventures they provide.
Accessible Journeys
offers wheelchair accessible group tours, cruises, and trips to adventure travel destinations.
If it's a fear, well, then depending on how badly you want to try a certain activity, you may want to consider therapy or hypnosis. Many people struggle just with flying and take medication to get them where they want to go. There's no shame in that either. If age is the issue, you may need to redefine what adventurous travel means at your current age. What I mean by this is our ideas are fluid. Sometimes we need to redefine our thoughts to fit where we are at our current stage in life. Adventure over 40 doesn't necessarily look the same as it did at 25. We need to let go of the old ideals. Recently, I was struggling with going to the gym because I was never going to look like I did when I was 20. I needed to redefine my goal and remind myself that I could be in the best physical condition for my age. It helped. Be flexible. Change your thoughts. And be gentle with yourself.
My husband and I have friends who are in their late 70s who are traveling the world. Much of their travel is cruising.  This can be a fantastic way to see the world at any age. Our friends are having adventures that include safaris and SNUBA, a cross between snorkeling and scuba diving. Here we are almost 1500 words into the meaning of adventure and the bottom line seems to be; don't let anyone else define your adventure. We are all on our own journey and adventure is really anything you want it to be. Get out there and own your inner (and outer) Adventurer!!