Every now and then, the ladies just need a girlfriend' Getaway. And after spending 4 days at the Grand Velas Riviera Maya, All-Inclusive Resort and Se Spa, I can say with confidence that you can not go wrong by planning your getaway with them. Grand Velas, Riviera Maya could possibly be the best all-inclusive resort for girlfriend getaways. Whether you are planning a slightly wayward bachelorette weekend away, a luxury spa break, a mother and daughter escape, or a Milestone Birthday Celebration, Grand Velas will provide the best girlfriend getaway in the Caribbean.
**Disclaimer: This was a hosted trip, however, all opinions are my own. I strive to provide my readers with my most authentic sentiments.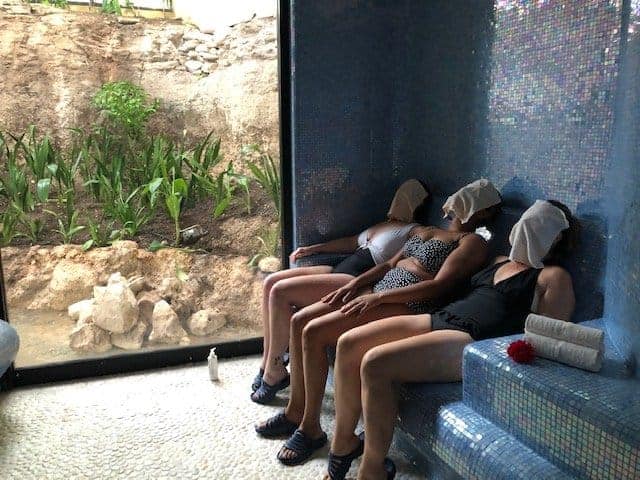 But a lady's weekend doesn't have to be all massages and facials. If you and your friends are foodies then a gastronomical weekend can be arranged. And if it's a milestone birthday you and the girls are celebrating you can arrange for the celebration to begin as soon as you're picked up from the Cancun airport.
This all-inclusive ultra-luxury resort is set up in three sections (Ambiances).  Whether you book the Zen Grand Experience with suites in a rainforest setting or an oceanfront Grand Class or Ambassador Experience, you can expect your every whim to be anticipated.
Regardless of what Ambiance you choose, you have full access to the entire property. You will never be far from a pool, spa, dining, bars, and other amenities. All this plus a pristine beach is just a short shuttle ride from anywhere on the property.
A Different Kind of Luxury All-inclusive Experience for the Best Girlfriend Getaway in the Caribbean
As soon as you arrive at Grand Velas Riviera Maya Resort, you become immediately aware that you are someplace special. The check-in process alone tells you this isn't going to be your usual hotel stay. There's no standing at a desk while going through the registration process. Here you are seated in comfy chairs and given champagne or strawberry and kiwi water while you wait for the procedure to be completed.
Once registration is completed you will be escorted to your room by your personal concierge who is assigned to you for the duration of your stay. Your concierge will ensure that everything is perfect during your visit. Want champagne and chocolates in your suite? It will be there. Want breakfast in bed or on the veranda? Done! Prefer a different kind of tequila in the mini-bar, just ask and you shall receive. (Yes, you will find a bottle of tequila and maybe some other goodies in your room on arrival.)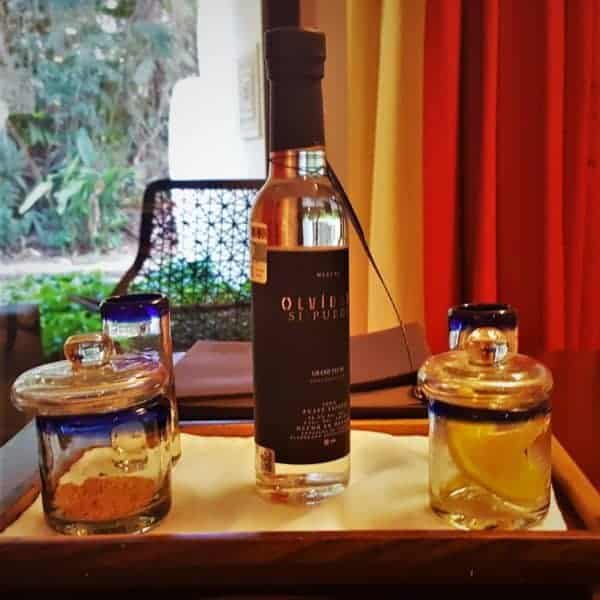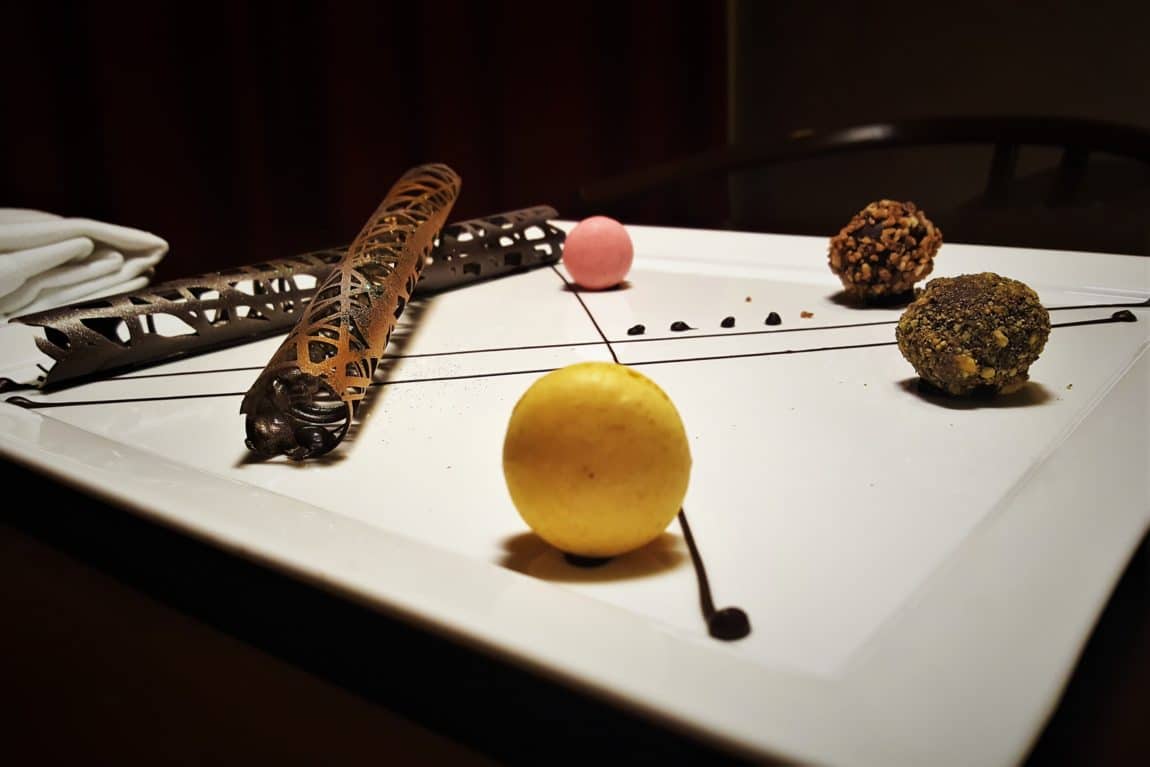 And in the evening, you can expect turn-down service, including a sweet treat.  As part of the service, you will find a mat and slippers placed at your bedside so you won't need to put your feet on the cold floor first thing in the morning. Don't care for your pillows? No worries there is a full menu of options.
While you are here, choose from eight on-site restaurants including two AAA 4-Diamond and one 5-Diamond awarded restaurant. Each offers its own distinct flavor and style. Plus, all your dining and alcohol are included in the all-inclusive pricing.
However, there are a few amenities, activities, and options that are not included.
Just the Girls Spa Weekend
I won't lie, I think every good girlfriend's getaway includes a spa splurge. And spa treatments are just the beginning of this relaxing getaway.
For this spa getaway, plan a Zen Grand Experience. While this is the area furthest from the beach, it is amazing. It is also quieter and less crowded (not that any part of the property is packed) than other areas of the resort. And have no worries, it is a quick shuttle ride to the beach.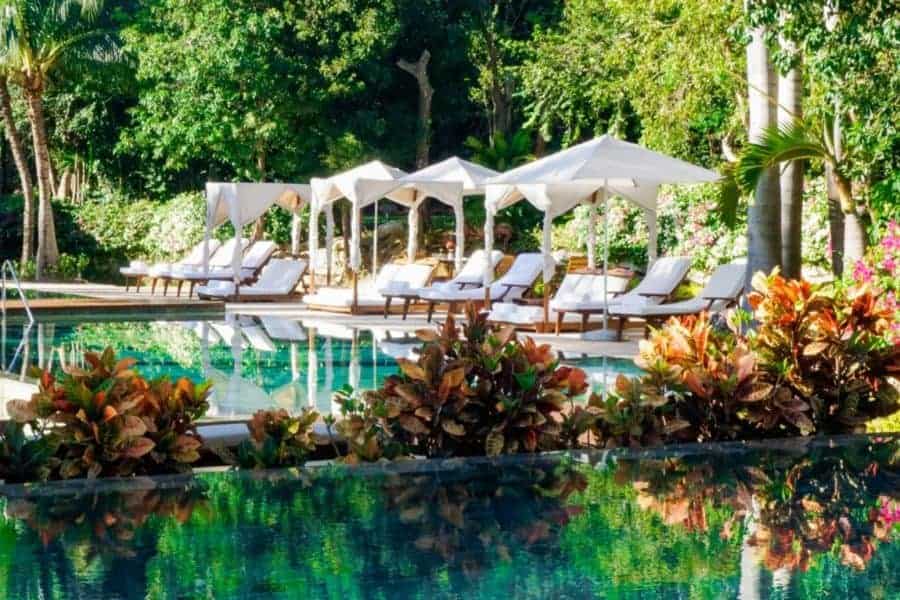 Located in the jungle surrounded by the flora and fauna you are near the Zen pool which has a lagoon feel as well as the Aqua Bar.  And nestled among the botanical gardens, you will even find a cenote.
Also, this section is closest to Se Spa. And since this is a girl's spa getaway, this is where you want to be.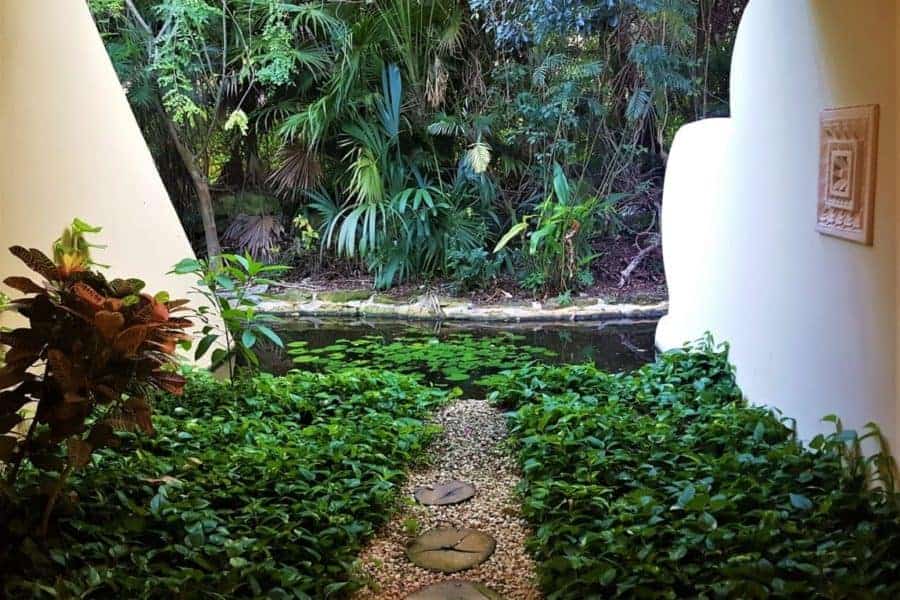 In addition to being close to the spa, you are also near two of the property's fine restaurants, Chaka (Mexican and Mayan) and Sen Lin (Asian Fusion). Plus, when you and the girls are looking for an evening cocktail, head to the Koi Bar. And if there are any exercise fanatics in your group, you are just steps from the fitness center.


For your weekend spa getaways with your girlfriends, you will stay in one of the Zen suites. These suites have walkouts to your private terrace and overlook the koi pool. The sounds of the jungle surround you. Enjoy your coffee or even breakfast while listening to the chatting of birds in the trees. And be sure to watch for monkeys.
Head to the Zen Pool and Aqua bar to relax beside this lagoon-style pool. The pool concierge will take care of everything you need. Let them ready your cabana, bring you fresh towels after a dip, and serve you cocktails. Take your lunch poolside. I recommend the seafood tacos. Yummy!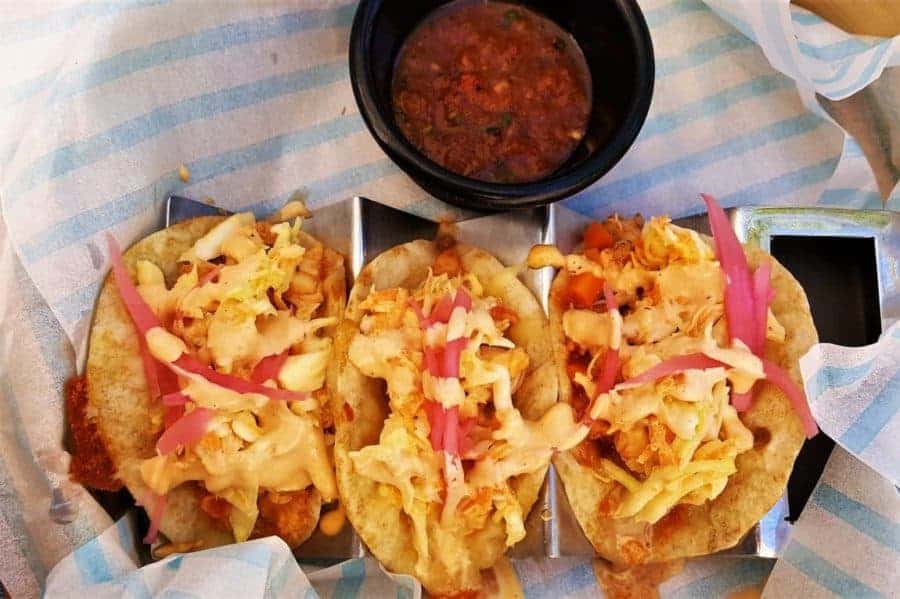 Since this is a girls' luxury spa break, let's talk Se Spa. To call the spa anything other than a complex would undermine its massiveness. But it's not about the size, it's about the breadth of its services. Here you can have every imaginable service and some you've probably never considered.


A number of spa services are steeped in the Mayan tradition. Try the Coffee & Cocoa Experience or the Organic Kaab Honey Experience. I highly recommend the latter. It is 80 minutes of pure bliss.
Regardless of which service you choose, indulge in the Riviera Maya Water Ceremony. This hour-long exotic sensory hydrotherapy ritual is sure to relax and rejuvenate your body and spirit.
If you are so inclined, grab a shuttle to the beach for morning meditation or a yoga class.
Note that, unless your stay includes spa services, there will be a charge. However, many packages come with daily spa credit. When planning your girlfriends' spa getaway be sure to inquire about any promotions being offered at the time of your stay.
A Beach Bachelorette Party
A must for this girlfriend getaway is a tequila tasting with resident mixologist Brandon. During your tasting, you will learn the history of the ancestral beverage and its roots in the Mayan tradition. Brandon will explain the difference between tequila and mescal as well as the process for making the elixir. You will sample a number of Mexican tequila brands.


Before dinner hit the Skybar to take in a sunset and enjoy a cocktail. Then try one of the three nearby restaurants all located in the Grand Class. Bistro offers casual dining and International cuisine for adults only. You will find fine French cuisine at the AAA 4-Diamond-rated Piaf.  And, the AAA 5-Diamond-rated Cocina de Autor offers creative interpretations of Mexican and Caribbean classics. Cocina de Autor and Piaf require reservations with elegant attire expected.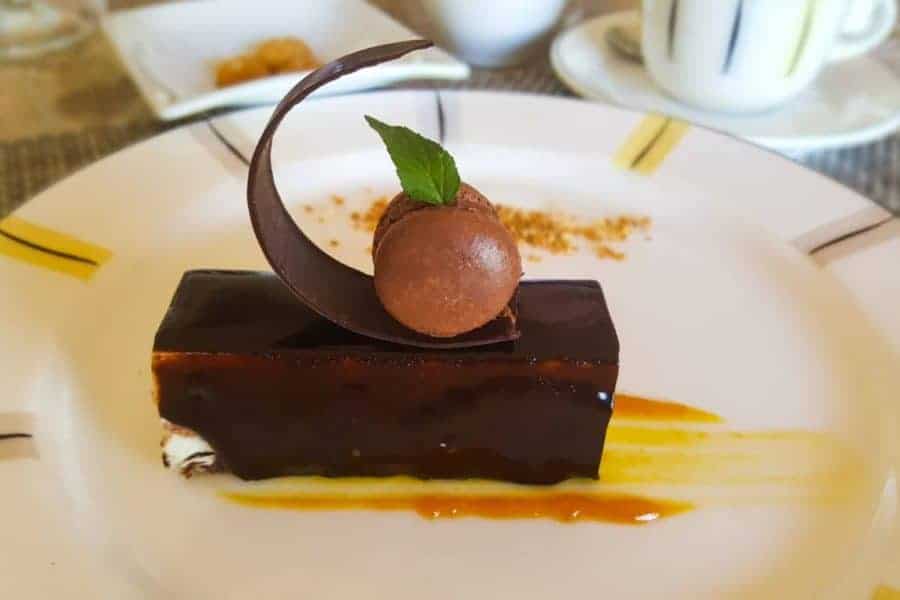 If you are willing to move to the Ambassador Class then I recommend Frida. As you might imagine, Frida Kahlo is the inspiration behind this restaurant. Of the restaurant we visited, Frida's was my favorite. This is one of the family-friendly restaurants, so that may be something to consider if you plan to be hitting the tequila cart. Yes, they come around with a tequila cart. Try the Tamarindo margarita.


Any good bachelorette getaway includes some fun nightlife. Beginning at 8 pm, Tuesday, Thursday, and Saturday, you will find live entertainment on the Ambassador Deck. Dance under the stars or just relax and enjoy some cocktails.
Once you have had a few cocktails, head to the Karaoke Bar. Any sports fanatics in your group? The Koi Bar is where you will want to be to watch the game. No games, then you will find music videos on the big screen.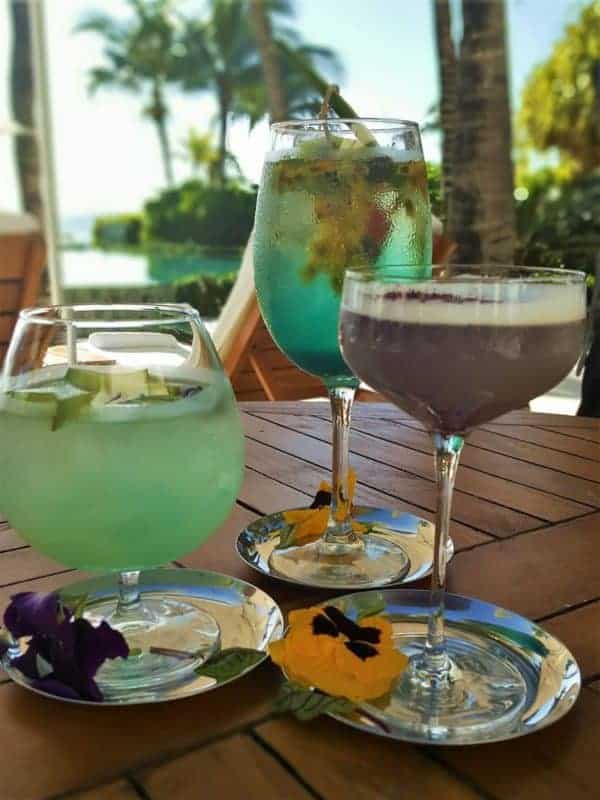 Not done partying when the bars close? Head back to your suite and hit that fully stocked mini-bar and the bottle of tequila that was waiting for you when you arrived.
Sleep late and enjoy the buffet at Azul or room service. Room service is something you should do at least once during your stay at Grand Velas, Riviera Maya. The food is presented in such a lovely manner and you will feel like a queen. And let me tell you, there are no cold eggs or soggy toast for breakfast. Your meal will arrive warm and picture-perfect.


Hungover? Recover on the beach or poolside at any one of three pools. You may want to stick to the adults-only pool at the Grand Class Pool. Whichever you choose, you will have concierge service to bring you the hair of the dog or anything else you need to get you through.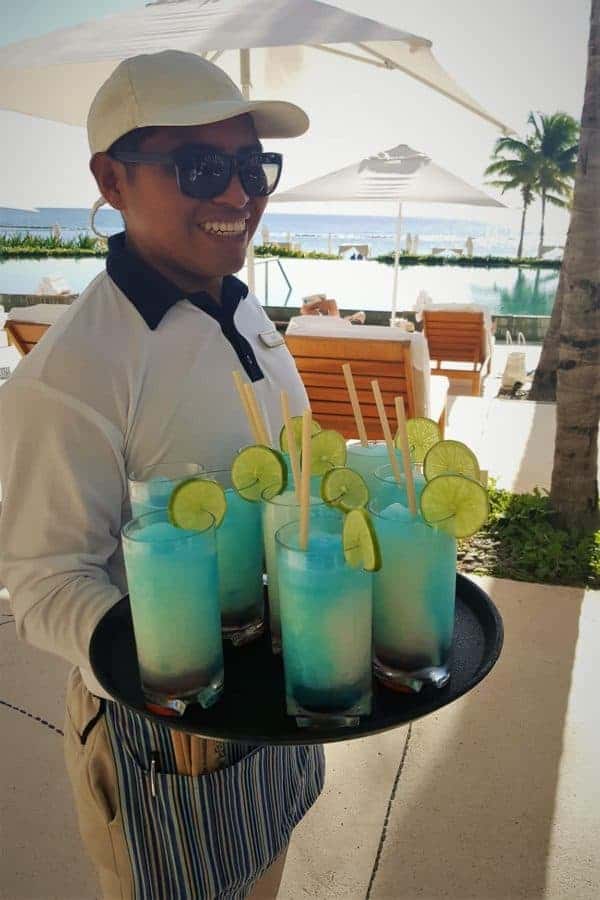 If you are not too under the weather and are up for some beach activities, kayaking, snorkeling, scuba diving and more are all available. If you're more of a pool person then maybe you are up for some aquatic volleyball or water polo. You may even want to do a bit of dancing or even take a dance lesson.
A Mother-Daughter Trip
Whether your daughter is a teen or all grown up, you will find plenty of ways to bond at Grand Velas. And, while I like the idea of a mother-daughter getaway, I really love a multigenerational all-girls trip.
If you are planning a multigenerational girls' getaway, or your daughter is a tween or teen you will want to stay in the Ambassador's section as it will keep you close to the Teen Center, beach activities, family pool, and even the Karaoke bar. If you have any little ones on the trip (which in my opinion goes against the purpose of a girls' getaway) there is also a Kids Club in the Zen section of the property for children 4-12 years old.
The Ambassador Experience is the most family-friendly of the three Ambiances. Here you can choose between four suite types each with different amenities and levels of service. All offer spectacular ocean views and most with private plunge pools. The Governor Class and Presidential Class offer private butler and maid service as well as poolside personal butler service. Plus, you will receive VIP airport transfers and a 50-Minute Serenity Massage per person, per day (maximum 4 people).
Taking the time for a mother-daughter vacation is important because you will never get the moments of your child's (even adult children's) life back. But you can capture your amazing mother-and-daughter vacation in pictures. It would be fun for the two of you to go have your hair done and then do a beach or poolside mother-daughter photo session to commemorate your time together.

No matter the age of mother and daughter, there are a ton of activities you can participate in together during your "girlfriends" getaway.  Learn to speak a bit of Spanish at one of the poolside classes. Play some Badminton or mini-golf. Improve your photo skills with a three-hour Photo Safari workshop and Ecotour. Play a bit of Bingo or even Blackjack. Take a bike ride or try a dance class.


And by all means, get a mani-pedi together at the Se Spa.
If you need ideas for a mother-daughter spa getaway, look at the section above detailing the girls' spa weekend. With perhaps a few modifications or if your daughter is older, this could be perfect for the two of you.
The Milestone Birthday Getaway
Of all the places to go for your birthday, I can't think of any place better than Grand Velas Riviera Maya. This is especially, true of a milestone birthday. Every birthday should be celebrated. But those landmark birthdays call for something a little extra special. After all that 40th, 50th, 60th or even 75th birthday won't be coming around again.


Start the birthday celebration vacation as soon as you arrive at the airport. Arrange for limousine pick-up for you and the girls.
Since these momentous birthdays are one-time celebrations, this girlfriend's getaway is all about splurging. Therefore, this girls' weekend calls for the Grand Class Experience.
With a Grand Class Suite, you will be in the heart of everything. Your suite will provide you with nearly 1400 square feet of space including an oceanfront terrace with a plunge pool, a lounge area with a sofa, and a King-size bed. The Grand Suite also has a gorgeous marble bath with a Jacuzzi tub, a rain shower, and space for a massage table.
And if you and the girls want to go all out while sharing accommodations then go for the Presidential Grand Suite. This suite is a palatial 2,793 square feet with an exquisitely appointed lounging space and dining area for eight. This 2-bedroom suite has a King-size bed and two queen-size beds. Your oceanview terrace also has a private pool for two. You will have a full bar with premium liquors & stocked mini-bar.
Additionally, the Presidential Suite offers you service over and above the amazing services found with some of the other accommodation levels. Here you will also have in-suite and poolside private butler service as well as personal maid service. Plus, a 50-Minute Serenity Massage is provided per person, per day (maximum 4 people). Also, VIP transportation to and from the airport is already included.
Because this special birthday celebration deserves only the finest, make your rounds at the AAA 4-Diamond (Frida and Piaf) and 5-Diamond (Cocina de Autor) restaurants.


Finally, arrange for an in-room massage. Or head to the Se Spa even if only for the foot and scalp massage. And by all means, indulge in the Water Ceremony. (If you haven't figured it out by now, I think every occasion deserves some spa time.) 😀  😀
Gastronomic Themed Getaway
It won't matter which Ambiance you choose for your gastronomical getaway as they all are fantastic. Perhaps your decision will be based on your budget or your travel style.


Obviously, this getaway is all about the food. With all the amazing gastronomic experiences at Grand Velas, you can't go wrong. And because this is an all-inclusive girls' getaway, you won't strain your budget with the many 4 and 5-Diamond awarded restaurants. You will, however, need to make reservations.


Plan to dine at the AAA 5-Diamond awarded Cocina de Autor.  You will be treated to an 8-11 course meal that is nothing short of art. In addition to amazing flavors and stunning presentation, each course is paired with the perfect wine and is impeccably timed. This is fine dining at its best.

As I've already stated, the AAA 4-Diamond-rated, Frida is my top choice of all the restaurants. The food is impeccable and not overly fussy. I recommend the Red salad and the Black bean cappuccino which is not a coffee drink at all. It is a black bean soup that is beautifully presented.


Unfortunately, I did not get to try Piaf, the other 4-Diamond restaurant on site. Therefore, I can not make any specific recommendation but since this is a foodie trip, you won't want to skip this one.
Also, be sure to try Chaka for a meal of ancient Mayan food.  While Chaka does not have a diamond rating, it does specialize in Mexican and Mayan cuisine. I think any gastronomic experience should include cuisine specific to the region. And don't forget to indulge in a Mayan dessert. I recommend the Yucca Doughnut with Horchata ice cream.


In addition to hitting all the award-winning restaurants, arrange for a cooking workshop focused on local cuisine and commonly used spices. You can anticipate the demonstration by Chef Green to include the preparation of a regional dish. For us, he prepared shrimp in a chimole sauce (a dark mole common to the Yucatan). After preparing the food, we were given the opportunity to plate the dish. As you can imagine, some were more successful than others in their attempt to make the food resemble the chef's presentation.


Chef Green is also a Gaucamologist. Yes, you guessed it; a chef who specializes in Guacamole. You will want to arrange a poolside demonstration with him. If you ask him to prepare his favorite combination of ingredients, you will get the perfect mixture of pomegranate, pumpkin seeds, red onion, cilantro, Serrano peppers, and mango. I promise this will be some of the best guacamole you've ever eaten.


Finally, at this point I'm not even going to suggest spa time as you already know, to me, this is a given. lol  😆
No matter what theme or combination of itineraries you choose, you just can't help but have an amazing girlfriend getaway. When arranging your stay be sure to ask about any promotional offers available for your stay or at the time of booking.