There are so many options when you're in need of a long romantic weekend getaway, but what could be better than an island or all-inclusive escape? Whether you are looking for a honeymoon destination, an anniversary trip idea or a valentine's day getaway you will find some amazing option here.
Because everyone's idea of romantic is different and because geographically what is possible for a weekend away depends on where you live, I have broken the list into four parts. In this first installment, you will find some incredible islands that perhaps you might not automatically consider.

Weekend Island Getaways for Couples
Capri, Italy
In the South of Italy, not far from Naples and the Amalfi Coast you'll find the world-famous island of Capri. While the Faraglioni, coastal rock formations are well-known, locals know that Capri is one of the most romantic destinations in Italy. So much so that when you want to pop the question, just say so when booking a boat tour to the Faraglioni. The Capitan will slow down purposefully, giving you some extra time to enjoy the view… and bend the knee!
You can plan a day trip to Capri from Sorrento, or spend the night on the island.  Plan a surprise romantic dinner for your significant other. One of the most romantic hotels you can book is Capri Tiberio Palace. Here each room overlooks the Gulf of Naples and is sea-themed, with vintage decors and original pieces.


Typically, in the late afternoon, tourists leave the island. This means after a day spent exploring the narrow streets and tiny shops, you can slow down to walk hand-in-hand to Punta Tragara Belvedere or Punta Cannone Belvedere to watch the sunset.
Another popular romantic spot in Capri is the Punta Carena lighthouse. At sunset, with the sky ablaze and the sun reflecting on the massive rock formations in the sea, it turns into one of the most romantic spots in the world.
If you're visiting Capri to celebrate a special occasion, find a restaurant on the water's edge at the Marina Grande. Torre Saracena, located inside an ancient defense tower, is one of the most beautiful. The terrace overlooks the Marina Piccola Bay. Expect lots of fresh fish and seafood, cooked with simple and yet delicious local recipes.
Submitted by Danila Caputo Travelling Dany
Havana, Cuba
The most romantic weekend island getaways are often the ones that require no planning. Simply pack a bag and figure it out along the way. Havana Cuba is fantastic for this. It's a short flight from the US and the city streets alone are a great reason to visit.
While Havana has a lot of great hotel accommodation, it's becoming increasingly popular to rent an apartment. Sites like Airbnb make it easy because you can organize it in advance and pay on your credit card. Many of the rentals have balconies that overlook the busy streets in Old Havana, perfect for sipping a Cuban coffee and people watching for hours.


Old Havana is a neighborhood to wander. There are lots of cute cafes and little bars to pop in for a mojito or daiquiri while listening to live music. Paseo del Prado is perfect for strolling with live musicians and local artists selling paintings and handicrafts. It's also not far from the famous Malecon, the seawall where Cubans gather with friends and lovers to spend the evening.
One of the most popular things to do is to ride in a classic car for a city tour. If you don't want to be tied to a schedule there's no need to book in advance. Simply head to the square in Central Park where the cars line up. Here you can negotiate with the drivers who speak English. Don't be shy about asking for a photo to remember the afternoon, the drivers know all of the good spots.
For dinner visit La Guarida, the most famous restaurant in Cuba. While the dining room requires reservations a day or two in advance, they have a spectacular rooftop bar. A cocktail at sunset is the perfect way to kick off your evening of romance.
Submitted by Ayngelina Brogan of Bacon is Magic
Isle of Skye, Scotland
The Isle of Skye has often been voted as the most romantic place to visit in the UK and is one of the most magical destinations in Scotland.  The stunning scenery attracts visitors from all over the world. Also, its proximity to several Scottish cities makes it ideal for a long weekend escape.  Some of the most romantic spots include the Fairy Pools, Quiraing, Fairy Glen, Talisker Bay, and Coral Beach.
All romantic getaways in Scotland should involve a castle and luckily Skye has many to explore. However, Dunvegan Castle should be a top choice.  It is the oldest continuously inhabited castle in the country and is open for tours to the public.  Once you have visited the grand interior, take a stroll in the beautiful gardens.


Going on a boat ride is a popular option on Skye. You can choose from a wide range of themes including wildlife tours and glass-bottomed cruises.  If you want to escape to a quieter part of the island, head to Loch Coruisk. Here you are guaranteed to find a more intimate spot.  Boat trips leave from Elgol and drop off at the remote loch for a couple of hours or longer if you wish.  The surrounding mountains are breathtakingly dramatic and it is the perfect place to enjoy a dreamy picnic for two.
If you are traveling to Skye for a special occasion then the world-renowned Three Chimneys Restaurant is a must.  The restaurant also has luxury rooms with sea views which are perfect for a romantic weekend retreat.  Whatever you decide to do, you are guaranteed to fall in love with the Isle of Skye.
Submitted by Susanne of Adventures Around Scotland
Mauritius
If when planning a romantic weekend getaway, beaches, palm trees, sunsets, candlelit dinners, infinity pools, fruity cocktails, and perfect weather, come to mind, Mauritius may be your perfect destination.
This small African island located in the Indian Ocean has everything you would want in a romantic weekend island getaway. There are plenty of all-inclusive resorts, as well as smaller resorts and more boutique hotels for those that want to do it all by themselves.


The island is easy to navigate and get around, the weather is near perfect no matter what time of year. The food is a mix of Indian and African, full of spices and flavor. During the day there are so many activities to enjoy with your loved one, like taking a catamaran tour, enjoying the beach, kite surfing, jet-skiing, and exploring the many things to do on the island.
If it's romance you are looking for, head to Mauritius.
Submitted by Corrine Vail of Reflections EnRoute
Luxury All-Inclusive Beach Resorts for Lovers
The truth is any place can be romantic depending on how you spend your time. But let's face it removing all the stresses of daily life goes a long way towards sparking romance. This is why all-inclusive resorts can really allow you to rev things up or rekindle a romance.
Abu Dhabi, UAE
While Abu Dhabi, the capital of the United Arab Emirates, is mostly known for the incredible Grand Zayed Mosque, it is also a wonderful place to spend a romantic weekend.
To be more precise, Zaya Nurai Island in Abu Dhabi is the perfect place for a romantic long weekend escape. In order to spend a weekend on the island, you have to be a hotel guest of the stunning Zaya Nurai Island Resort. But, this luxury hotel does not come cheap. However, each villa has a private beach and pool.


Zaya Nurai Island is known as the Maldives of the Emirates and it has indeed the most beautiful beaches in the country. Whether, taking a walk at the beach, watching the sun rise or set, enjoying a drink at one of the bars or ending the day in your private pool, it cannot get more romantic in Abu Dhabi.
Since Zaya Nurai Island is a private island, you will need to take a boat from Saadiyat Island. If you get seasick you can also opt for the helicopter or seaplane. Either way, Zaya Nurai Island is the perfect place to stay for a romantic getaway.
And if private islands and helicopters are not in the budget, there are many great places to stay in Abu Dhabi in every price range.
Submitted by Arzo Nayel of Arzo Travels 
Barbados
The island of Barbados is the perfect romantic long-weekend escape. Easily accessible by plane, these pristine white sand beaches await your arrival.
While visiting Barbados, the best hotel for a romantic weekend is Sandals Royal Barbados. This luxury included vacation starts the moment you land in Bridgetown where you'll be whisked away to paradise.
When you are a guest of Sandals, your food, drinks and most activities are included. Put away your credit card and just enjoy being present with the one you love.
One of the benefits of staying at Sandals Royal Barbados is that it is an all-suite property. It offers butlers in most categories, which elevates your vacation so that you don't have to do anything!


Since Sandals offers an exchange program with sandals Barbados next door, you can stay at one and play at two. All the restaurants, bars, pools, and activities are available to both property guests. There are 17 restaurants and 7 bars available for use.
Both resorts are easy to navigate making anywhere on both properties within a 5-minute walk. The properties are conjoined by beautiful stretches of beach.
With an array of global dining options, you can take a trip around the world through culinary exploration while visiting.
If you opt to get a butler level room, consider getting the Beachfront one-bedroom skypool suite. Not only do you have a private balcony with a pool in the sky, but a tub for two on your terrace.
The butlers go the extra mile in the romance department leaving things like chocolate covered strawberries, setting up romantic baths, and setting up couple's massages or candlelight beach dinners (surcharge apply) for you.
Visiting Barbados may be one of the most romantic trips you'll ever take. Everything about the hotel, staff, food, and experience was perfection.
Submitted by Nicki of  Eat Live Travel Drink
Riviera Maya, Cancun, Mexico
It's easy to associate Cancun with spring break and partying but move away from town and book yourself an all-inclusive resort and you have a recipe for romance.
And there may not be anyplace more idyllic that the Grand Velas, Riviera Maya. This all-inclusive ultra-luxury resort sweeps you away from all your cares. Whether you book the Zen Grand Experience with suites in a rainforest setting or an oceanfront Grand Class or Ambassador Experience, you can expect your every whim to be anticipated.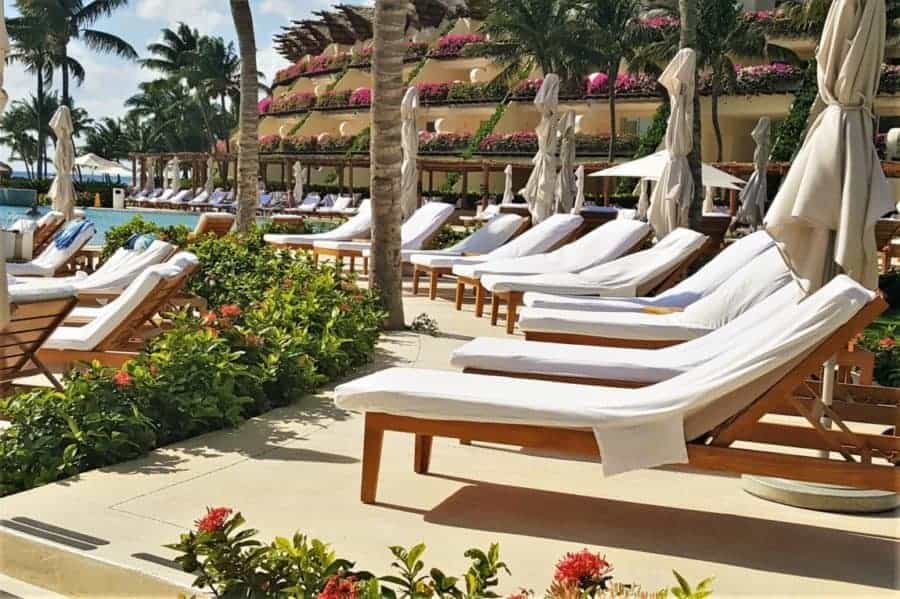 As soon as you arrive at Grand Velas, you become immediately aware that you are someplace special. The check-in process alone tells you this isn't going to be your usual hotel stay.
No matter where your room is situated, you won't be far from a pool, the spa, dining, bar, and other amenities. All this plus a pristine beach are just a short shuttle ride from anywhere.


Every room has a personal concierge who will ensure that everything is perfect for a romantic stay. Want champagne and chocolates in your suite? It will be there. Want breakfast in bed or on the veranda? Done! Don't care for your pillows? No worries there is a full menu of options.  And expect turn-down service, including a sweet treat.  As part of the service, you will find a mat and slippers placed at your bedside so you won't need to put your feet on the cold floor first thing in the morning.
And no romantic escape is complete without at least one spa treatment. Why not schedule a couple's massage or one of their signatures couples' treatments? Regardless of which service you choose, indulge in the Riviera Maya Water Ceremony. This hour-long exotic sensory hydrotherapy ritual is sure to relax and rejuvenate your body and spirit.


Before dinner hit the Skybar to take in a sunset and enjoy a cocktail. Choose from eight on-site restaurants. Each offers its own distinct flavor and style. After dinner hit one of six bars; one for every mood.  Be sure to try Chaka for a traditional Mayan meal. And end your evening with a nightcap in your suite. After all, you do have a fully stocked mini-bar.
And while many resorts have a mixologist on staff, how many have a Guacamologist? Yes, you guessed it; a chef who specializes in Guacamole.
Not the island or all-inclusive type? No worries, there is no shortage of romantic escapes in North and South America that might suit you better. Or perhaps you are looking for a European holiday with your sweetie. Still not finding what you want? Maybe a romantic getaway to some exotic destination like Asia, Australia, or Africa fits the bill.