When we headed into the Mayan Jungle for our Coba Mayan Encounter Tour with AllTourNative, I knew we would be visiting Coba ruins, swimming in cenotes, ziplining, and more. What I didn't know was that there would be so much to learn during this Mayan adventure. And it turns out there was an awful lot I didn't know.
But before telling you about both ancient and modern Mayans, the Coba Ruins, and our amazing Mayan Jungle adventure, let me tell you why you should consider touring with AllTourNative when seeking a tour operator.
**Disclaimer: This was a hosted trip, however, all opinions are my own. I strive to provide my readers with my most authentic sentiments.
5 Reasons Why You Should Tour with AllTourNative
Knowledgeable guides like our guide, Rebecca. Not only was she knowledgeable but she even had visual aids. I've been on quite a lot of tours and I don't see that too often.
Safety comes first. If you are a frequent reader you might already know that my husband is in the safety profession. So, safety is one of those things that gets my attention. I have to say that AllTourNative takes the utmost care to assure that they are providing visitors a safe Mayan adventure.
AllTourNative's commitment to the environment. I'm not sure I have ever toured with a company as committed to providing an eco-friendly environment. AllTourNative asks that participants avoid bug repellent and sunscreens that contain chemicals. They require visitors to shower before entering the cenotes so that they do not become contaminated. And after swimming, they provide an environmentally safe citronella-based repellent.
Sustainability and opportunities for the Mayans. AllTourNative works closely with the Mayan villagers, providing education, skills, and economic opportunities.
Fun, fun, fun!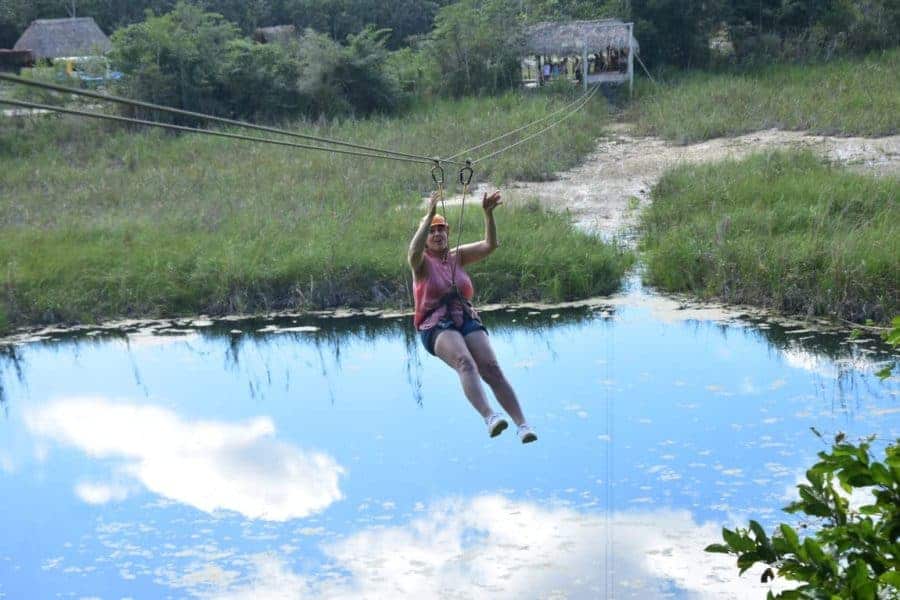 Ancient Mayans at Coba
Our AllTourNative guide, Rebecca, gave us a bit of information on our 40-minute drive from Grand Velas Riviera Maya All-Inclusive Resort to the Coba Zona Arqueologica. But our real education began when we arrived at the site of the Coba village.
Evidence of Mayan civilization on the Yucatan Peninsula dates back to as early as 2500 BC. But Coba is believed to have been settled between 50 and 100 AD. Evidence suggests, Coba reached its pinnacle between 600 and 900 AD. Because the ancient city of Coba was a major trade hub, it became one of the most prominent cities on the Yucatan Peninsula.
As a trade city, people would need to be able to easily access the city center. The Mayans built a system of Sacbe, which translates to "white road." This made commerce possible. The Mayans constructed the Sacbe with fill material coated with limestone stucco or plaster. Because of the intense heat in the region, much of the trade commerce was conducted at night. The "white road" reflected the moonlight providing a lighted path for the Mayans.
The ancient Mayans also had their own advanced writing system consisting of Maya glyphs (pictures) and numbers 1 through 20. This is the only Mesoamerican writing system that has been significantly decoded. Rebecca showed us a guide for deciphering the Mayan writing.
Throughout Coba, you can find Maya glyphs on Stelae, an etched stone that tells the story of the ancient Mayan civilization. Like most monuments, they tell the story of the ruling class of the civilizations. Not nearly as much is known about ordinary people. Because commoners, would have lived in thatched structures made of organic materials, less survived to tell us about ordinary Mayan life.
However, it is known that a severe drought drove the Mayans out of Coba. As Rebecca explained, because Coba was a densely populated city there was little agriculture. And the agriculture that did exist was inefficient. Therefore, the drought necessitated the exodus to more productive areas.
By the time the Spanish conquered the peninsula around 1550, the Mayans had already left Coba. Once uninhabited the jungle consumed the city.
Modern Mayan Culture
We all study the ancient Mayans in school but I think they left a few things out. I think the biggest surprise was that the Mayans are modern-day people. Mind blown!! It seems, despite learning that the Spaniards conquered the Mayans, my education left out the part about Maya existing as modern culture. As a traveler, I feel like I should have known this. I did not!!
The modern Mayans still speak the language. In fact, there are multiple dialects of it. Mexico recognizes 68 languages, including Mayan.
Today, about 300,000 Mayans live on the Yucatan Peninsula. They are among some of the poorest people in the country. As is often the case with many indigenous people, they tend to be isolated and poverty prevents most Mayans from obtaining an adequate education.
And this is where AllTourNative steps in. They have partnered with some of the Mayan villages. They employ and provide business opportunities to the Mayans. Many assist in providing visitors with a safe experience. And although Rebecca didn't specifically say so, I'm certain they provide the labor for clearing and maintaining the walking trail, the zip lines, and more.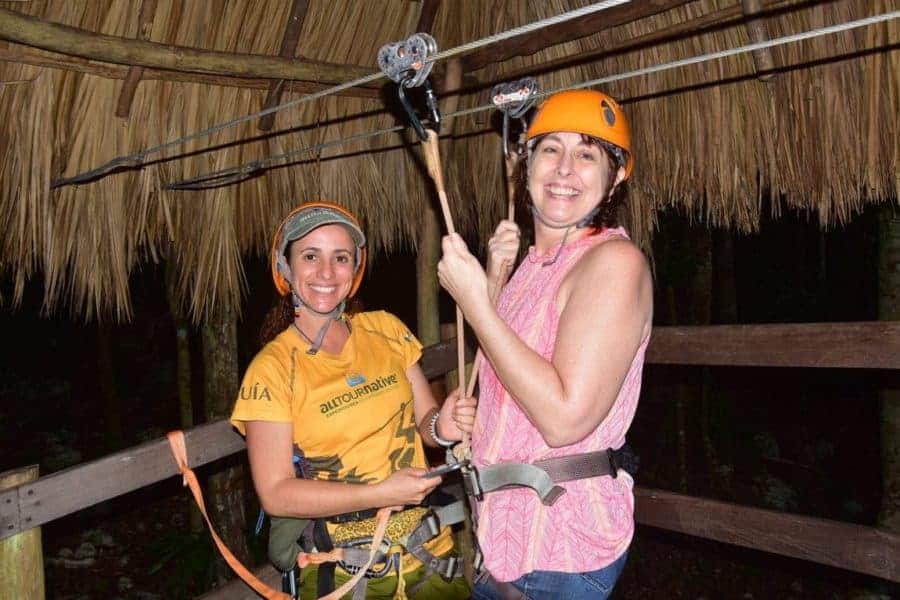 In the village store, visitors can purchase Mayan goods like honey, cacao, and even hammocks. Additionally, you will find local villagers selling authentic Mayan souvenirs.
Also, AllTourNative employs a number of young people as photographers. This provides them with a valuable skills as well as provides visitors with beautiful images that capture their adventure.
All this helps keep the Mayan culture alive today and into the future.
Exploring Coba and Nohoch Mul Pyramid
Abandoned in the 1500s, Coba was rediscovered in the mid-1800 but remained unexplored. While other Mayan sites on the peninsula were being explored, it wasn't until the 1920s that archeologists began to study Coba. Even today, only 5% of the city has been reconstructed. When you look around you can see large piles of stone. These are ancient structures that have not yet been unearthed and reconstructed.
After telling us about Mayan life, Rebecca sent us on our way to explore Coba and climb the Ixmoja, or the Nohoch Mul Pyramid.
Nohoch Mul is about 1.5 miles from the entrance. You can walk to the pyramid but that will take 15 – 20 minutes, depending on your stride. It would be an easy walk, especially if you arrive before the midday heat. But if you must visit later in the day, shade covers most of the area. Your other options are to rent a bike for about $2.50 US or catch a bicycle taxi for around $4 US and let someone else do the pedaling.
Unlike Chichen Itza and the ruins at Tulum, you may climb the 130 steps to the top of Nohoch Mul, one of the tallest pyramids on the Yucatan peninsula. Nohoch Mul stands at a height of 138 feet and provides uninterrupted views of the Mayan rainforest.
Climbing Nohoch Mul is a bit of a challenge. Enough to remind me I needed to get back to the gym. However, I do think it is achievable for people of most fitness levels. However, since I tend to be a bit clumsy, I was relatively sure I was going to die by tumbling down 138 feet of massive stone.
You should know that the stones are very smooth in spots and can be slippery. Going up they didn't pose much of a problem but I did slip coming down. (Again, I knew I would die.) If you are like me and a bit awkward, I would recommend using the anchored rope that runs to the top of the temple to assist.
TIP: We visited in January so it was not blazing hot. However, if you are going to visit in warmer weather, I would definitely recommend arriving early in the day before the sun gets high in the sky. Also, bring your water and wear your sunscreen. There is a place within the park to purchase water if you do forget.
Adventure Awaits in the Mayan Jungle
After our visit to Coba, we headed to a rural area where our Mayan jungle adventure awaits. On arrival, some modern Mayan gentleman greeted us.
The men assisted with preparing us for our kayak adventure across a surface-level cenote (another thing I didn't know. I thought cenotes were exclusively underground). We paddled a short distance through clear waters surrounded by tall reeds and other vegetation. We were told to watch for crocodiles. I'm not sure that was an authentic warning or just one to heighten the adventure.
A short distance away we docked. Here Rebecca led us on a short hike through the Mayan jungle. This is all private property and made available through a partnership between AllTourNative and the villagers. It was a relatively easy hike but there were some ascensions that posed a bit of a challenge. Rebecca pointed out some of the local flora and told us about the animals found in the region.
Finally, we arrived at a clearing. Here we met with the village Shaman. He spoke to us in his native tongue and bestowed a blessing upon us.
After receiving our blessing, we headed to the cenote. Before entering, you must shower in order to remove any perfumes, lotions, and deodorant. This is because the cenote is the source of the villagers' drinking water.
Entering through a cave, we descended deep below the earth. Finally, we emerged into an opening of crystal blue-green waters surrounded by stalactites and stalagmites. After a brief photoshoot, I was eager to get in the water. It was absolutely the right temperature. Cool enough to be refreshing but not so cold as to jolt the system. I'm not sure how long we spent at the cenote but I know I could have stayed much longer. I love the water and as I said, it was perfect.
After drying off and getting back into our adventuring clothes we walked a short distance to the landing for the zip line. The line takes you over a lagoon. While not a particularly long line, it was fun. The zip line terminated back at our starting point.
We loaded back into our van and headed to a true Mayan village. Here we enjoyed an authentic Mayan lunch prepared by the local women. Once fortified we were off to the next adventure, rappelling. After some brief instructions and a demonstration, we one by one descended into a 50-foot deep ravine.
What goes down, I suppose must also come up. To get from the bottom of the ravine back to street level, we needed to climb some steep and tricky stairs. This was the most challenging portion of the day. I really wished I had been doing my lunges.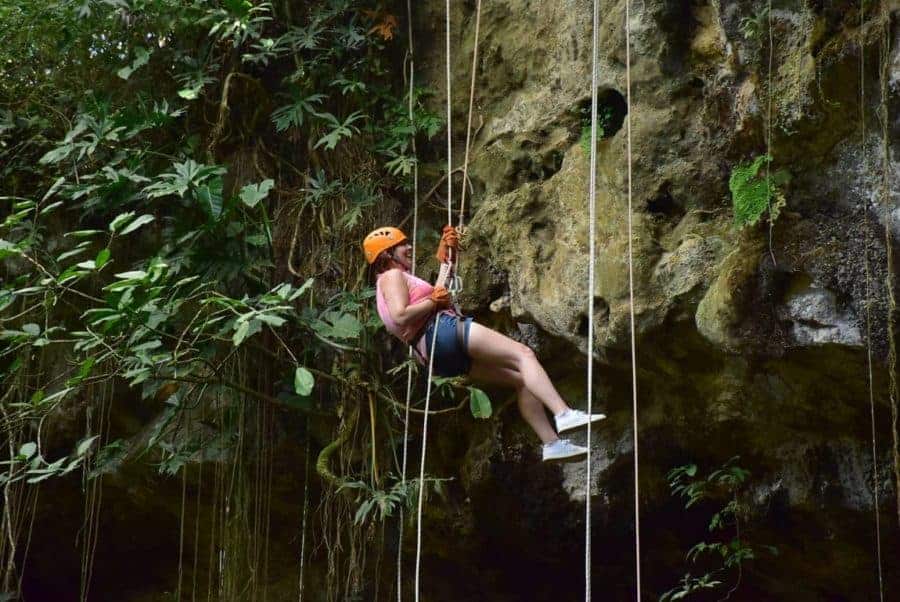 Finally, we headed across a suspension bridge. I can't say how long it was but it was a pretty good distance. On the other side of the bridge, our assistants hooked us back up and we zipped across to our starting point. This was our final adventure of the day.
Suffice to say that we were all tired by this point. The long drive and traffic provided ample time to close our eyes for a bit.
Next time you travel to Cancun, I suggest you consider giving AllTourNative a call and arrange an adventure. In addition to the Coba Encounter Tour I was on, they offer, jungle adventures at Tulum and excursions to Chichen Itza and Ek Balam. Coba is just one of many Riviera Maya adventures to experience during your stay.
Where to Stay: When visiting Cancun and the Riviera Maya, I can't imagine a better place to stay than Grand Velas. Looking for a laid-back family resort? Grand Palladium hits the mark for family fun. You'll never run out of things to do.
Like this post?? Share it NOW!!