If you have a passport, theoretically, you can hop the line between San Diego and northern Baja Mexico in just a matter of minutes or hours (depending on the lines at the border crossing). So, traveling to both is not a huge deal once you have made it to the west coast. After all, many people make the crossing daily for work or family.
**Disclaimer: This was a hosted stay, however, all opinions are my own. I strive to provide my readers with my most authentic sentiments.

However, if you want to get a feel for San Diego, Tijuana and Rosarito you should probably allow a day or maybe a little more for each. I recently did the trip in three days with a group of food and travel writers. We transitioned from San Diego to Tijuana in the morning and then traveled to Rosarito that same afternoon. This made for a tight schedule, but doable. If you have the time, I would recommend you stay overnight near Tijuana or depart later for Rosarito. Another option would be to make the trip to Rosarito early in the morning.
Where is Baja California?
Let me give you the lay of the land as they say. San Diego is the southernmost city in California, USA. This is simple. Most people have a general idea of where San Diego is. However, Baja California in Mexico seems to be a source of misunderstanding for non-Californians. I admit being from the Mid-Atlantic region I was a little confused.
The mystification comes from the fact that I have heard this area referred to as both Baja California and Baja Mexico. Let's clear this up with a little history, geography, and Spanish lesson.
First, at one time all of California was part of Mexico. After the Mexican-American War (1848) what we call California today became part of the United States. The peninsula just south of San Diego bordered by the Pacific Ocean and the Sea of Cortez remained part of Mexico and became known as Baja California. Baja literally means "low" in Spanish. After the war, California split into two parts Alto or "high" and Baja "low." Now, of course, we don't call California, "Alto California" but hopefully this helps to clarify where one ends and the other begins. After all, they aren't just two different states they are different countries each with their own money and government and requiring a passport. It's kind of important to understand the distinction.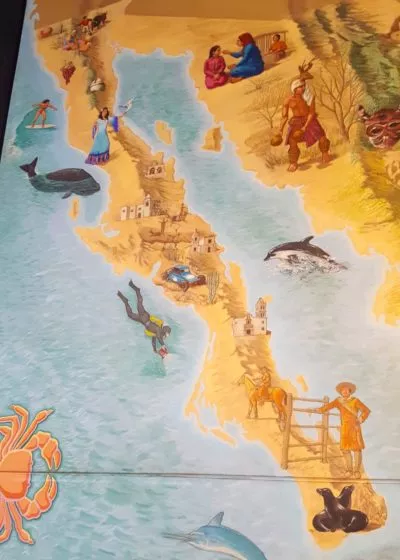 Getting From San Diego to Tijuana
If you are traveling from within the US you will want to fly into San Diego as the airport in Tijuana, General Abelardo L. Rodriguez International Airport (TIJ), despite being an international airport, does not have flights from the US. If you are flying from outside the US, you can choose to fly into Tijuana or San Diego. I say, do whatever fits your criteria best. Note: From the Tijuana airport, you can walk directly across the border into the US and back using the Cross-Border Express, a skywalk connecting the airport with San Diego.
Regardless of where you fly into you are going to need a rental car unless you plan to use a guide. For the San Diego portion of the trip, travel writer and podcaster, Alexa Meisler of 52PerfectDays.com and BreakIntoTravelWriting.com was our gracious host. Juan Arturo Saldaña Angulo of the Tijuana Tourism and Convention Bureau arranged and headed up the Tijuana and Rosarito portion.
Let's hit the road!
Fun Things to Do in San Diego
If you enjoy maritime destinations, military history, gorgeous beaches, stunning sunset, friendly people, good food, and near-perfect weather San Diego may be your kind of town.
Enjoy the bay from land and by water
If you happen to be in the city on Sunday morning, start your day with a Hornblower cruise (Departs from Grape St. Pier 1800 N. Harbor Dr.) it is a delightful way to Brunch as well as experience the San Diego waterfront and views the skyline from the water. They offer a two-hour narrated cruise in San Diego Bay. The meal includes free-flowing champagne, a buffet-style meal, and incredible desserts (Hint: the Macaroons go fast). The cost is $64 and with that, you receive a Hornblower Champagne flute to take home as well as free WiFi. In addition to this sailing, Hornblower offers sunset dinner cruises and cocktail sightseeing cruises.

Following your cruise, walk off those desserts with a stroll along the Waterfront. If you are in the mood for some maritime history, you will find the Maritime Museum, including the Star of India, the world's oldest active sailing ship, and the USS Midway Museum.
If shopping is more to your liking or you want to sit with a cocktail and enjoy the sunshine and bay breezes, head to Seaport Village. With its Spanish-inspired architecture and location on the water, this is an idyllic setting to have a drink and watch the sailboats.

When you're ready to move on, your next stop might be a stroll through Little Italy. This bustling area was once the city's waterfront. Today it is an urban neighborhood full of trendy cafes, restaurants, brewpubs, and bars speckled with a few boutique shops. India Street and Kettner Blvd. are this district's hub, but Little Italy encompasses the area down to the waterfront and a couple of blocks east.
In addition to an array of places to eat and drink, Little Italy provides a range of opportunities for photos, including Piazza Basilone, the Little Italy sign, and the Big Red chair in front of Mimmo's Italian Restaurant.
Fun Spots to eat and drink
Having had such a large meal earlier in the day we opted for a lighter Happy Hour and dessert for our evening meal in Little Italy. But before getting to that, we made a stop at The Waterfront, San Diego's oldest tavern. Established in 1933, the bar is not located on the modern-day dock area, it is just a few streets in, at 2044 Kettner Blvd. It's a lively joint with welcoming locals.
The afternoon we were there, a San Diego Chargers game showed on televisions situated above the bar and people overflowed out onto the sidewalk. Within a few moments of our arrival, we were identified as non-locals. I'm sure our cameras gave us away. Our greenness did not deter the patrons from asking us to sidle up to the bar.

It wasn't long before the Chargers scored a touchdown. The fans cheered and bells clang-clang from above the bar. I can't be sure if the hoopla was over the touchdown or the barkeeps passing out small plastic cups filled with free Jello shots. Regardless, it was clear everyone was having a good time.
From here, we made our way one block east to India Street headed to Isola Pizza Bar, located at 1526 India Street. Isola is a gourmet pizza parlor and wine bar. Our group chose to order from a limited Happy Hour menu that provided a nice sampling of their menu. I had a roasted garlic and flatbread dish. The bread was crisp and tasty, seasoned with rosemary and parmesan but the garlic was a tad undercooked.
Perhaps a better choice may have been to stick with what they are known for, pizza. Several others at our table had the personal Margarita Pizza (a deal at $5). It looked lovely and from what I was told was delicious. The pie was certainly large enough as people went home with leftovers.
During Happy Hour, someone mentioned that gelato would be a perfect finish. While we could have had gelato there, we opted to make our way back toward our hotel and to stop at iDessert by Jean Philippe (1608 India St., #104, San Diego). This might be the most fun I've had with dessert since, well, maybe ever. There is nothing standard about iDessert, not even the ordering process which is done from a touchpad that allows you to order and pay at the counter. No cash changes hands and no one will incorrectly interpret your order.
There is some serious innovation here and you get to engineer the perfect combination of meringue, gelato, cake, fruit and/or crunchy toppings, and more. You can even decide how you would like it served. My recommendation is to go with the Vegas Bowl, at least the first time. This is all about the presentation. The Vegas Bowl is the dessert limited only by your imagination and served in a fanciful fog-emitting dish.

Where to stay in San Diego
By this time, we had put in a full day. We made our way to our hotel, the Homewood Suites by Hilton (2137 Pacific Hwy, San Diego). This newcomer to the area opened in Spring 2016. It shares its restaurant, Pacific Standard, and common areas with the Hilton Gardens.
One of the nicest things about this hotel is it encourages guests to spend time outside their room, both day and evening. It offers two inviting courtyard areas complete with mature tropical plants, overstuffed furnishings, and a fire-lit bar. Additionally, there is a rooftop pool with lounge chairs and a cabana that overlooks the bay.


Though you may not want to spend much time in your room, it is always nice to have a clean and cozy place to put your head down. Rooms here are spacious and comfortable (even the pull-out sofa I slept on was decent) with neutral colors. This hotel offers a limited number of suites with full kitchens.
If you prefer not to cook your morning meal, they offer a complimentary breakfast daily.
After a good night's sleep and the hotel's breakfast, it was time to make our way to the California / Mexico border at Tijuana. However, there are so many things to do here that you could easily extend your stay to 3-days in San Diego before heading on to Baja.
Tijuana
I admit my expectations of Tijuana were low. My knowledge of the city came from a few people I know who have been there but mostly from television and movies. Let's face it the picture painted by Hollywood is not flattering. They portray it as seedy. A place that is dangerous. In my mind, this is where you go because anything goes, legal or illegal. I expected it to make the Big Easy look like Sunday school.
What I found was in total contrast to what I imagined. It was like any other city. It has the negative but it has more to offer that is positive: arts and culture, food as well as places for kids and families.

Interesting Things to Do in Tijuana
After an uneventful walk across the border, we started our visit at the Tijuana Cultural Center (CECUT). This modern complex brings together, fine and performance art, cultural exhibits, education, botanical gardens, and even an IMAX Theatre. With several galleries under one roof and a theatre, there are typically multiple events occurring at any given time. When we visited, there was a ceramics exhibit in the main gallery and one of the small spaces had the works of an Iranian artist.


If you find you need to stretch your legs during a ballet or need some fresh air, step out to the botanical gardens. Here you will find florae and faunas common to the area and replicas of ancient Mayan artifacts. Be sure to look for the pond with the turtles.
In my opinion, a trip anywhere is incomplete without a visit to the local market. Mercado Hildago is a nice size market with a blend of the authentic and the phony for the unsuspecting tourist. Here you will find meats and cheeses, produce, spices, piñata, and local delicacies including crickets. Stop by the coffee shop that is located beneath the chapel, El Hidalgo, Expendio De CAFE. Even on a hot day, I recommend a cup of their authentic Mexican Mocha.


If you are traveling with kids, you must visit Mini City. This innovative space shows kids what it is like to work in a chosen career. As adults this may not sound like fun, after all, we are living it, but this is make-believe for the kids. It allows them to dress up as firefighters and doctors. They can perform "surgery."
As an adult, I love that Mini City, in a fun kid-friendly way allows kids to experience some of the important jobs people do that maybe do not have the glamour and prestige. They can see that all careers have value and contribute to society as a whole. Through this, they can learn to respect the person who pumps their gas or harvests their vegetables as much as the surgeon.

Great Places to Eat and Drink in TJ
If you are a Caesar Salad aficionado or want to be able to tell your friends that you had a Caesar salad where it originated, then Caesar's (located at Revolución Avenue between 4th and 5th Street) is the place to go. With claims that they invented the Caesar salad, you will not find a more authentic dish. Your salad is prepared at your table with whole, not shredded romaine leaves, fresh egg, chopped anchovies, freshly squeezed lime, and crushed garlic by one of their friendly servers. The menu here extends far beyond salad but the Caesar salad makes them famous.


If you are looking for something more substantial than a salad, or you are with a group that just can't agree on what to eat, Telefonica Gastro Park located at Boulevard Aguacaliente #8924 is the solution. Here you will find a collection of food trucks that offer up gourmet food that runs the gamut from fish tacos and ramen to steaks and octopus.
This is a great choice for families. The adults get the quality food they crave in a relaxed kid-friendly outdoor setting. And, with so many choices there is sure to be something to please everyone on a budget.


Baja is home to several breweries. Probably most notable is Tecate. Tijuana is home to several craft breweries. We visited Norte Brewing Co. While not the easiest place to find, located on the 5th floor of the Foreign Club parking garage on 4th Ave between Revolution and Constitution, the brew and the views are worth it.
A former strip club, Norte has stayed true to its roots with beer names such as Escort Blonde Ale, Sugar Daddy Chocolate Oatmeal Stout, and Cougar Amber Ale. They even kept the pole in the center of the room. We were there in the afternoon so the place was rather sedate but perhaps that is not the case when in full swing (pun intended).

Norte concluded our visit to Tijuana. Next up, an overnight stay in Rosarito, a beach town located about 18-mile south.
---
Still looking want to know more? Here are 10 Things You Don't Know About Tijuana.
---
Rosarito
This town has all the marking of a great little Spring Break town, likely because it was exactly that prior to the economic collapse of 2008. However, despite evidence of tough times, this town seems to be making a comeback. The construction that had stopped has resumed and there is new development and redevelopment taking place in and around Rosarito. What the town will become is anyone's guess, but currently, it seems that much of the in-town tourist activity takes place around the Rosarito Beach Hotel (RBH), a destination all its own.

Awesome Rosarito Activities
So much of what there is to do in Rosarito is within steps of the RBH. Just across the way from the hotel, you can peruse original art in one of several galleries. Unfortunately, we were there on a Tuesday when many businesses remain closed. Since this was the case, the best I could do was window shop but I would have loved to check them out. Especially, Coffee and Clay: two things I love, often together, as I am a potter.

Everything about the beach is relaxing to me, but to jumpstart the serenity or to take it up a notch, a visit to the Casa Playa Spa may be in order. Part of the resort, the spa is located in a separate building alongside the hotel. This two-story facility, with Spanish-inspired embellishments, is a full-service spa, including therapy rooms, Jacuzzi, sauna, and relaxation room. This is a true day spa and includes services for men, women, couples, and kids ages 6 – 16.


A favorite pastime in Rosarito is horseback riding on the beach. Step onto the beach just outside the hotel and you will find vaqueros (cowboys) waiting with their horses.
Top-notch Restaurants in Rosarito
For our evening meal, we walked a few short blocks from the hotel to Susanna's, a warm inviting cantina with an open kitchen situated prominently in the front of the restaurant. Susanne Stehr, the owner greeted us and gave us a brief tour including her coveted wine cellar before seating us. Susanne prides herself on offering her customers great wines from the Baja region.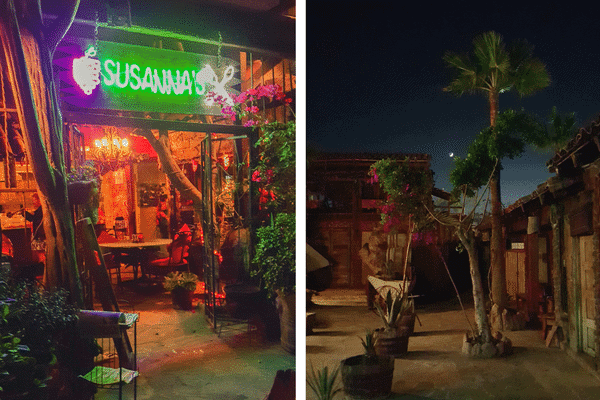 Finally, we settled into a large private room with tapestry-covered chairs and heavy wood and wrought iron décor. Suzanne sent a sampling of appetizers for us to get started and allowed us to order from the regular menu for our entrees. Much of the menu is based on classics but with a non-traditional twist.
I had the Blue Cheese Fettucine Alfredo; pasta in a blue cheese sauce served with green apple and toasted pecans topped with a choice of grilled chicken or shrimp. It was quite tasty but a bit heavy. I'm a big eater and couldn't finish. If I had, I would not have room for dessert.
We had one of each of the desserts brought to the table so we could try them all. My favorites were the Chocolate Fudge Cake brushed with Kahlua and topped with ice cream and the Homemade Bread Pudding. After dessert, I welcomed the walk back to the hotel in the cool ocean air.
In the morning, we enjoyed our breakfast at the Azteca Restaurant and Bar located within the hotel's main building. Because we were a large group, they seated us separately from the other guests.
Most of us opted for the traditional Mexican breakfast of Huevos Rancheros and black beans along with coffee and fresh-squeezed orange juice. One of the women in our group was a vegetarian. After a little confusion about her needs, they brought her a lovely plate of fresh fruits.
On the weekend, the restaurant serves a full American and Mexican buffet-style breakfast.
Stay at The Rosarito Beach Hotel
Rosarito Beach Hotel (RBH) is the oldest hotel in Rosarito. The resort dates back to the early 1900s and began as a hunting lodge. The original 12 rooms still exist today but with the addition of three other buildings including the 17-story Pacifico Tower, the resort boasts over 500 rooms.
I stayed in a Grand Suite in the Pacifico Tower. The unit was spacious with a combined kitchenette and living area that had a balcony overlooking the Pacific Ocean. My accommodations had a separate bedroom with its own television and king-size bed plus a bathroom with both a soaking tub and large shower.


A southern California and Northern Baja road trip need not be difficult. It is perfect for a long weekend or a short vacation. Plan your trip to straddle the weekend and getting to and from Mexico should be no problem. You should find it to be a relatively comfortable drive and if you add that extra overnight stay in Tijuana you can experience a little of what Tijuana nightlife is all about.
Like this post?? Share it NOW!!