Whether you are visiting Ensenada Mexico as a port-o-call during a cruise or you are doing a weekend escape you will find plenty to do. In many ways, Ensenada is like other coastal Mexican towns that welcome cruisers and vacationers. Like Cancun and Cozumel, to name a few, there are plenty of souvenir shops and watering holes but there are also cultural, historical, and gastronomical surprises that await.
Disclaimer: This was a hosted trip, however, all opinions are my own. I strive to provide my readers with my most honest sentiments.
Is Ensenada Safe??
Before jumping into all the wonderful things to do in Ensenada, Apparently, there is a concern among many, that travel through Baja by car is unsafe. Being an East coaster, I had not heard this but I understand it is a common belief held by many Californians. We spent 5 days traveling by van around Baja. I did not have any uneasiness about it. It wasn't until we were in Ensenada when a young woman from a cruise heard me mention traveling by road. She asked about the experience and that is when I became aware of the concerns. She and her female friend had arrived by cruise ship. She told me that she had been trying to convince her boyfriend to drive down for a weekend from San Diego but he felt it was too dangerous. I let her know that we had no trouble and thought there was no reason she and her boyfriend should not make the trip. I believe this to be true, so if you are having doubts, put your mind at ease.
The drive to Ensenada from San Diego along the coast is rather pretty. The road is flanked on the west by the Pacific Ocean and on the east by rocky hillsides. Only some residential pockets and a few small towns mark the way. Now that you are comfortable with the idea of visiting, we can get into what to do. If you are driving in, before you reach town there are colorful and photo-worthy letters that spell out E-N-S-E-N-A-D-A. You will want to stop and take your picture with the sign and the ocean backdrop. I know it is a touristy thing to do but not all travel must be about culture and history.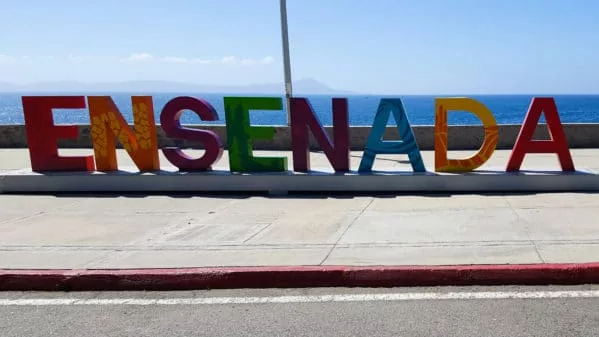 Take a Bus Tour and Get the Lay of the Land
One of the first things I like to do in a new city is take a sightseeing bus. Not so much to make sure I see all the sights but to get the lay of the land. It helps me get my bearings so I spend less time lost. If you have limited time, I would definitely recommend a bus tour with Playa Sol Tours for the reason stated but also because you will get to see the highlights. They have double-decker buses. As long as the weather is agreeable, I like to sit up top. For those of you that come by ship, this is your opportunity to get a picture at the Ensenada sign. The bus makes a stop here. This is the only stop it makes, as it is strictly a tour bus.
However, it will travel past; Caracol, the Science Museum, the Social and Civic Center, Riviera de Ensenada, formerly the famous Playa Hotel, the Autonomous University of Baja California (UABC), and through town. In town, you will pass Jardines Parque Revolución, the town's main park, and some of Ensenada's favorite cantinas including Hussong's and Papas & Beer. The bus tour ends in town. If you are on one of the cruise ships, the port is well within walking distance.
After the bus tour, stay in town and visit one of the cantinas or do some shopping at the many downtown shops. If you have grown hungry, I recommend lunch at La Guerrerense, located in the Plaza Blanco.
La Guerrerense – Street Food Without the Cart
This humble little joint operated by a modest grandmotherly woman and her daughter started as a street cart in Ensenada. Despite the move to a brick-and-mortar establishment, La Guerrerense has stayed close to its unassuming beginnings. While La Guerrerense may be a carry-out restaurant (there is a dining area to eat in as well), it is anything but fast food. This is award-winning food in a relaxed atmosphere. Owner and Chef Sabina Bandera's tostadas have won awards around the world, including multiple honors from the LA Street Food Fest and the World Street Food Congress in Singapore. She has received all these accolades over the past 5 years. Additionally, La Guerrerense has been featured on Anthony Bourdain's No Reservations. RIP
La Guerrerense's menu is mostly tostadas but they are not your standard Mexican staple. Her tostadas made from the freshest local fish and shellfish and topped with her own hot sauces will surely delight the most refined palette. Sabina brought out several dishes for us to sample. The spread of course consisted of her top dishes, including Cerviche de Caracol con Lajas de Caracol (Sea Snails topped with slices of Sea Snails), Cerviche de Erizo con Almeja (Sea Urchin with Clams), and Ensalada de Jaiba con Callo de Hacha (Crab Salad with Scallops). The Sea Urchin and the snail tostada are both winners of the LA Street Food Fest 2011 and 2012 respectively.
If you feel Street Food must come from a cart on the corner, you are in luck. While mom and sis run the operations of La Guerrerense, the sons prepare the same menu on the street. The cart by the same name is located at 1st and Alvarado Streets. You can expect the same quality from the food truck as you would get in the restaurant. Everything is sourced from the same local fishermen and prepared in the manner you find at the restaurant.
Riviera Civic, Social, and Cultural Center – Once Hollywood's Answer to Prohibition
After you have filled up on Sabina's delicacies, head over to the Riviera Civic, Social, and Cultural Center located in the former famed Playa Ensenada Hotel and Casino. This place is steeped in history. If you enjoy the stories of old Hollywood and early gambling and the prohibition era, you will love this place. I know I did.
Enter from the parking lot through a courtyard area often occupied by artisans and vendors. Browse their wares before stepping into Bar Andaluz, credited with creating the Margarita. Drink in the history while sipping on one of their signature drinks. Be sure to ask the bartender the origin of the cocktail. Peruse the old photos on the walls. You are sure to see a few familiar and legendary faces.
Construction on this Playa Ensenada Hotel and Casino began in 1928 as a response to prohibition in the United States. With the restrictions on alcohol and gambling, Californians sought out gambling halls in Baja California. The Playa Hotel, a grand oceanfront hotel, and casino under the management of legendary boxer Jack Dempsey attracted Hollywood stars and starlets. Some of the hotel's clientele include Desi Arnaz, Lucille Ball, Anne Bancroft, and James Cagney among others. Additionally, the hotel gave rise to some famous names including Rita Hayworth, then known by her given name, Margarita Carmen Cansino.
This gorgeous Mexican and Moorish-inspired building boasts high, painted ceilings, ornate chandeliers, and Mexican tile throughout. Walk the halls; visit what was once the casino and ballroom. Imagine the big band music playing above the chatter and laughter of elegantly dressed patrons. A bar sits adjacent to the former casino. Look around. See if you can find any of the design features rooted in gambling superstition. If you look really close you may see a few masonic symbols. So cool. Right?
Today, the building serves as a conference center and home of the Ensenada History Museum. The museum features the heritage and culture of the indigenous people and the history of the missionary era in Baja.
Caracol Science Museum – Family Fun and Learning in Ensenada
If you are traveling with kids and have limited time, you may want to forgo the Playa Hotel and visit Caracol, the science museum. The museum is located at the end of the cruise ship pier making it quite convenient for cruising families. It is broken up into three sections, Earth, Sea, and Space. We toured only the earth section. This great hands-on museum allows visitors to "dig for fossils" and "experience an earthquake." Additionally, there are interactive hydroelectric and wind energy displays.
The museum opened about a year ago. Currently, only the earth section of the museum is complete but the other two areas are in the works. Additionally, there are separate exhibit rooms for visiting shows. When we visited, they had a special exhibit related to global warming.
I always find it interesting when there is a strange twist or interconnectedness between places and people. If you read my post about Valle de Guadalupe, you might remember a place called AlXimia. Well, two of the owners of AlXimia, one an astronomer and another educator are instrumental in bringing Caracol to life. During that dinner at AlXimia, it was explained to us that there have been many delays with Caracol mostly due to funding issues. This is so often the case with places like this. If you have a few extra dollars to donate, I would encourage you to do so. Caracol could be a real gem for Ensenada.
Del Rey Sol – Enjoy French Fare in Mexico
After street food for lunch, you may want to enjoy a more formal dinner. If that is the case, Del Rey Sol is the place you want to go. This is a fine French restaurant owned by local entrepreneur, Jean-Loup Bitterlin. Del Rey Sol opened in 1947 by Jean-Loups Mother, the late Virginia Geffroy de Bitterlin, is the oldest French restaurant in Mexico. Geffroy studied at Le Cordon Bleu in France and married a French artist before returning to her home in Mexico.
Everything about this place says, "French": the greeting by the Maitre d', the vested and aproned waiters, the piano bar even at breakfast, the décor, the central fireplace, and the amazing French pastries. Walls that are heavily adorned with paintings created by Bitterlin's father tie it all together. Del Rey Sol offers both formal indoor service as well as café services, plus you have the alfresco option. Those French pastries are available regardless of how you choose to dine.
We did not dine here for dinner. However, we were invited for breakfast. Though the restaurant is French, they do serve Mexican-inspired dishes. I had the traditional Mexican breakfast of Huevos Rancheros. And of course, there was the fresh-squeezed orange juice and the bottomless pot of coffee served from an elegant silver pot.
Some Amazing Places to Stay
Posada El Rey Sol
We stayed at Posada El Rey Sol, another of Bitterlin's properties. This is a newly remodeled motel-style accommodation with a room entry from the exterior. However, beyond that nothing about this place says motel. Typically, I worry places like this will be noisy. I found this not to be the case. The rooms are modest in size but comfortable. The beds are quite cozy. In fact, I would say here is where I got my best night's sleep on this five-day trip. The bathroom was updated and upscale with a large tiled shower and basin sink. I would not hesitate to recommend Posada El Rey Sol.
Casa de Los Siete Patios
However, if you are planning a stay of three days or longer, you might consider Casa de los Siete Patios. This private hacienda, owned and designed by Bitterlin for his mother, sits on the outskirts of town. It is secluded, and secure and boasts unobstructed views and ocean breezes. There is a large pool with a cabana and bar on the property. This unique circular home surrounds a central patio area and features all the amenities for entertaining. You can rent one to 5 suites but you will never share the villa with anyone outside your party. The cost of your stay includes kitchen staff who prepare your breakfast and lunch.
We arrived to see Siete Patios a sunset. That twilight time just before darkness takes hold is simply magical. There really is no other word for it. This would be a perfect location for a destination wedding and if you are interested, they will arrange it. The two acres of outdoor space provide several locations for the nuptials and reception. The venue allows for up to 650 guests.
There is an added bonus for any self-respecting Gen Xer. Bono has been one of Siete Patios' famous guests. Stay here and you can brag that you slept where Bono slumbered.
Hussong's – An Authentic Mexican Cantina
No visit to Ensenada would be complete without a visit to Hussong's Cantina, the oldest cantina in all of Ensenada (not just the city). This place is a throwback to old Mexico with planked wood floors and a bar that stretches the length of the place. Fans hang from the 12-foot or higher ceiling. Despite a few tables and chairs scattered about, this is really a standing bar. Notably, it is the most brightly lit saloon I have ever been in. Its patrons are a mix of tourists and locals with a few guys that look like real vaqueros (cowboys). There is no band but the noise level is such that you need to shout to converse with anyone.
Hussongs is the kind of place you throw back some shots and a few beers. The only other drink I can imagine ordering here is a Margarita. They also claim to be the creators of the Margarita. If you want to boast to your friends that you had a margarita in the bar where they originated, you had better get one here too. This way you have covered your bases if they want to dispute the actual location.
My two-pesos
Ensenada is a town with an interesting history with both cultural and educational sites. It is also a location for fun and frivolity. Whether you are looking for culture or self-indulgence, you can find it in Ensenada. Museums and cultural sites plus fine dining options and a University, provide a refined Ensenada experience. However, with its many bars and souvenir shops, you can have more of the Spring Break getaway. You decide what your Ensenada encounter will be.
Like this Post? Share it Now!