With little effort, wine-lovers can enjoy an amazing weekend escape to Baja Mexico's wine region of Valle de Guadalupe, or as it is commonly known "Valle." Valle rivals the Napa Valley in wine quality and dining options. This two-day itinerary will allow you to make the most of your weekend in Baja's wine region.
Located just two hours south of San Diego in Baja California, Mexico, you will find this lesser-known Pacific coast wine region.  This region marked by arid weather, moderate temperatures rugged mountains, and tranquil valleys is a prime location for growing grapes and a first-rate weekend getaway for wine and food lovers.
**Disclaimer: This was a hosted stay, however, all opinions are my own. I strive to provide my readers with my most authentic sentiments.

In recent years, Valle has become synonymous with both. Some of the top chefs from San Diego have brought their talents to the region with alfresco restaurants featuring full open-air kitchens and Baja Med Cuisine.
Vineyards old and new dot the landscape along Mexico's Route 3, the main thoroughfare in and out of the Valle de Guadalupe. Since the late 1990s, there has been an explosion of new wineries in the region. Currently, there are over 120 vineyards in Valle. Needless to say, there is no way to fit them all in during a weekend stay.
A trip along Valle's wine trail makes for a relaxed and romantic weekend getaway in Baja's. The group I was traveling with was on a frenzied schedule and despite the packed itinerary, the couple of days spent there felt peaceful. Perhaps the close proximity of stops or maybe it's the vibe.
Day One: Some of the Oldest Wineries in Valle
Santo Tomas: A Good Place to Start
We were traveling from Ensenada, located about 14-miles southwest on the Pacific Coast. Coming northeast on Route 3 we made Bodegas de Santo Tomas our first stop. This is the largest and most commercialized of the wineries we visited with three vineyards throughout Baja. However, I highly recommend it as a starting point, especially for anyone new to winemaking or tasting as it is a great learning opportunity. Their tour is quite informative and not intimidating. As a non-wine drinker myself, I would consider my knowledge limited, yet I was able to understand the process as it was explained and I enjoyed the tour very much.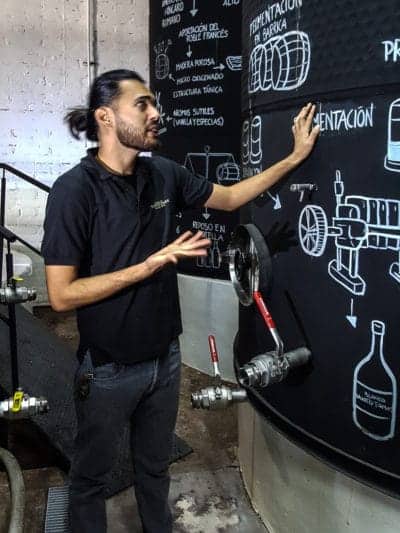 We were lucky enough to catch the end of the harvest. Grapes were being sorted and processed while we were there. This is a treat if you can time it right. Harvest-time occurs in late August through early October.
The final portion of Santos' tour really sets them apart from the other wineries. At this time, your guide asks you to step into a pitch-black room. Despite not being able to see you can sense that it is a large space. While standing in total darkness, they guide you through a sensory experience. I don't want to give too much away, because I think it might influence your perception. It is quite unexpected.
In addition to wine, Santos also offers tastings of olive oil and chocolate. Now they are speaking my language. Neither the olive oil nor the chocolate production occurs at Santo but both are ideal pairings with wine. The combination of the two is supposed to complement one another. While the chocolates, made by La Suiza, have names like merlot and chardonnay, they contain no wine. The name reflects the wine with which it pairs well.
Lunch at Malva
After our tour and tasting at Santo, we were off to lunch at Malva, Chef Roberto Alcocer's award-winning restaurant. This fully open-air establishment sits perched on a hillside overlooking the valley and beyond to the mountains in the distance, Malva is a little piece of heaven and an excellent example of farm-to-table Baja Med cuisine. Here is a nice description of Baja Med Cuisine.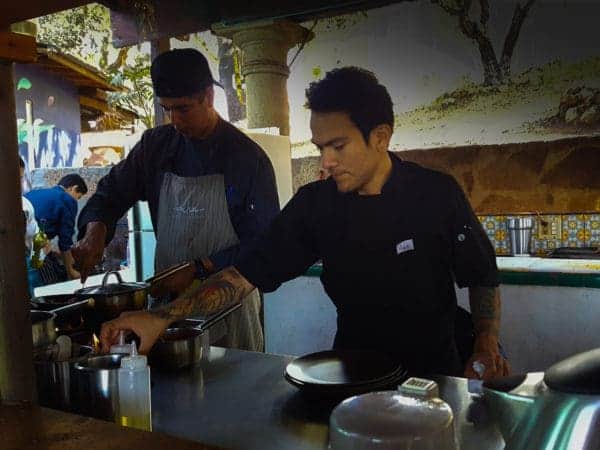 One could not ask for a more spectacular view or fresher food. Many of the herbs and vegetables used in the meal preparation grow on-site. In fact, while taking pictures I saw one of the cooks clipping flowering herbs from the garden. Shortly thereafter, those same flowers were on my plate. Dishes include locally sourced seafood from the nearby coast and meats from local farms.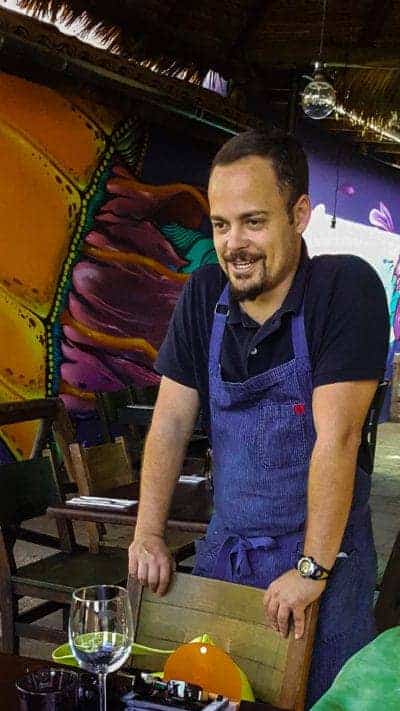 We had a former chef on the trip with us. She pronounced the oysters here the best she ever ate. They nearly brought tears to her eyes. I, however, despite loving oysters am allergic, so, Chef Robert had a swordfish appetizer brought out for me. Aware of my allergy he surrounded the dish with a ring of cornmeal that was intended to protect me from the oysters. Whether effective or not is questionable but the extra effort was appreciated.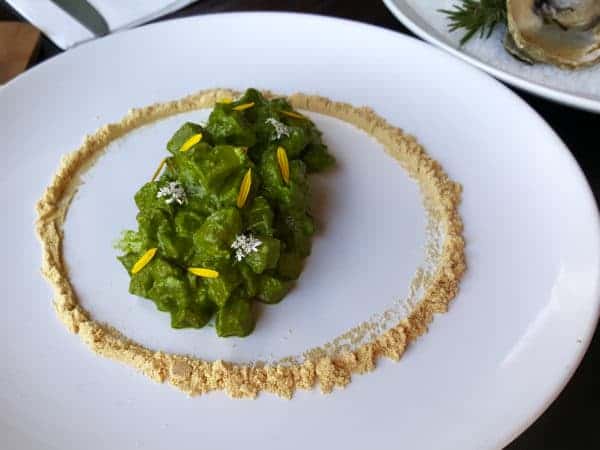 I could have spent the entire afternoon at Malva enjoying the view, listening to the music, and chatting with Chef Roberto. However, our 2-day schedule would not allow it.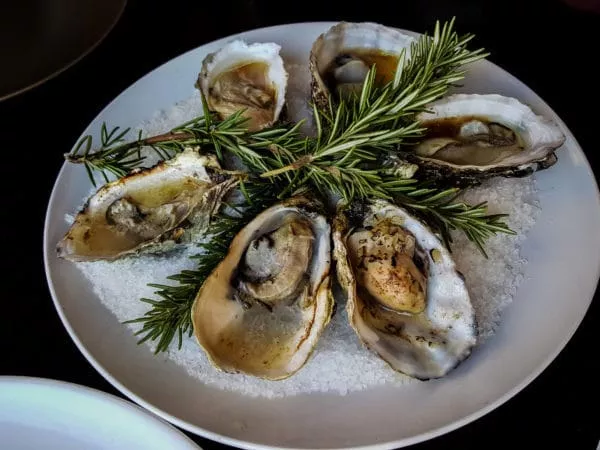 Barone Balche
Our next stop was Baron Balche. We were there for a tasting and a brief tour. Tastings take place in their cellar tasting room. They were one of the first in the Valle to move production entirely below ground. This helps with keeping a consistent temperature throughout the process.
Baron Balche is one of the oldest wineries in Valle, second only to Santos Tomas. While they are not the largest of the wineries in the Valle, they do produce 20,000 cases per year and they have wines in the entry, mid-level, and premium categories.

After our brief tasting at Baron Balche, we were ready to make our way to our overnight accommodations at Adobe de Guadalupe.
Adobe de Guadalupe: A Great Place to Stay
As we make our way down the dirt road leading to Adobe de Guadalupe, I notice several angels scattered among the rows of grapes. Moving closer to the hotel, I spot the blue domes that reach toward the heavens, I become immediately aware that we are somewhere special.

This authentic hacienda, in addition to being a boutique hotel, is a working family-owned winery and olive grove. Also on-site are stables for the Aztec Sporthorses that the owner breeds. Some of the horses are available for riding.

On our arrival, we were swept off to a building that sits separate from all the other activities for our wine tasting. This is part of the $250 US room rate, as is a full made-to-order breakfast. A tasting alone cost 180 pesos or roughly $10 at the time of our visit.
The tasting room is part of a cavernous barn-like structure that doubles as storage. Upon entry, rows of wine barrels stacked high and racks of filled bottles greet you. This is not a dark storage area. The space is brightly lit and inviting. Music plays adding to the ambiance.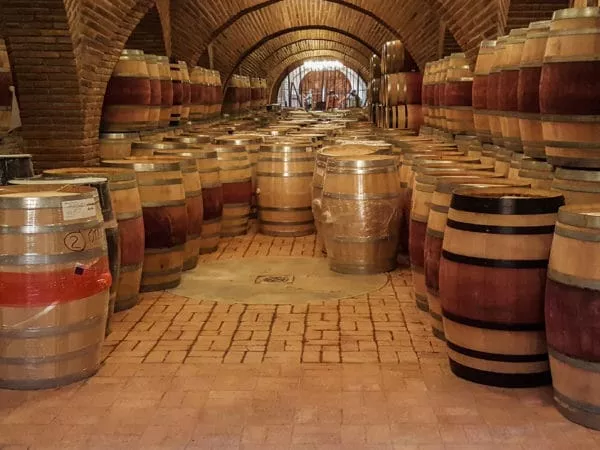 You are about to start to see a theme. Remember those angels? All the wines produced here are named after archangels. This is a tribute. The owners lost their son to a car accident when he was just a young man. This very personal tragedy precipitated the owner's move to the Valle and starting the winery.
Following our tasting, we toured the outdoor restaurant and the remainder of the property. All common areas are open to guests; including the vast main courtyard, pool, and hot tub, as well as, the living room and dining areas.

Staying here is like staying at an old friend's home. There are six spacious guest rooms. Like the wines each named after one of the archangels. The décor of each room is similar but not identical. All appointed with bold shades often associate with Mexico; blues, reds, turquoise with terracotta floors creating a private oasis. Each room opens onto a shared central courtyard area with a large fountain and flowering plants thus extending the refuge into the outdoors.
AlXimia: The Coolest Winery in Valle
After a short break at Adobe de Guadalupe, it was time to head out for dinner and wine pairing. We were invited to dine at AlXimia with co-owner Alvaro Alvarez Parilla. AlXimia appears from the road to be an alien spaceship that landed among the rows of grapevines. This architectural spectacle is part of the master plan behind AlXimia.


The 3-story extraterrestrial structure's design uses gravity to streamline the winemaking process. The grapes come in through the upper level where they get them ready for fermentation. The unfermented grape juice flows to tanks on the main level. Here the aging process begins. Finally, it travels into barrels stored on the lowest level, which is below ground. Here it is aged and bottled.
AlXimia draws its name from alchemy, the predecessor to chemistry. While this family-owned winery may apply the philosophies of alchemy, nothing seems left to chance or magic. Just as wine relates to the elements of earth, water, air, and fire, this group made up of a mathematician, an astronomer, an educator, a chemist, and a businessperson, thought out every detail and how they interrelate.
The tasting room is located on the main floor that is at ground level. It opens to all the floors. The open concept makes viewing and understanding the process easy.

That evening, we had the great pleasure of dining with Parrillo, the mastermind behind AlXimia. He regaled us with the story and philosophy behind AlXimia. What an unexpected treat and what an interesting host.
I'm sure we all could have sat and drank wine and listened to Parrillo into the early morning. But daylight would be upon us all too soon and we needed to call it a night.

On my first visit in 2016, Chef Martin San Roman had a restaurant at AlXimia. And while San Roman's restaurant has closed, a restaurant still exists on site. It is a casual dining space located off the main level on an open deck area overlooking the vineyard.
Dinner at Deckman's
As an alternative to San Roman's former restaurant, a good alternative might be Deckman's. I would call Deckman's an award-winning, alfresco farm-to-table Chophouse but the menu is not limited to meat. The menu also features fresh sustainable seafood from the Baja peninsula.  Slow food graces the menu at this outdoor eatery with a massive open-air kitchen. Deckman's is all about the ingredients and true sustainability. All ingredients used in preparation either come from their ranch or are locally sourced. They do not even serve bottled water or soda. They collect rainwater for use in irrigation and recycle glass, plastic, and cans. In every way, Deckman's is the antithesis of fast food. 
Day Two: More Award-Winning Food and Wine plus a trip to the Wine Museum
Casa de Piedra and Conchas de Piedra
After a good night's sleep and a dynamite breakfast at Adobe de Guadalupe, we headed out for our second day in the Valle. Our first stop is a two for one on the tour. It combines the winemaking talents and passion of winemaker/owner, Hugo D'Acoast's Casa de Piedra with those of Michelin Star recipient Chef Drew Deckman's Conchas de Piedra.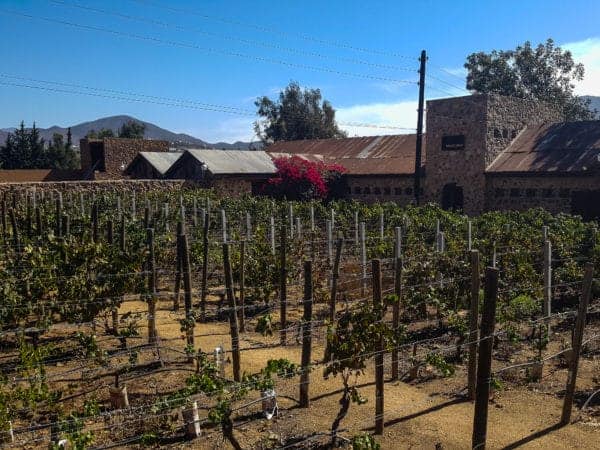 A'Costa considered something of a guru in the Valle has been instrumental to the growth of winemaking in the region. Talk to anyone about wine in the area and invariably his name comes up. He has educated and mentored a number of winemakers on the craft.
On our arrival, the delightful and multilingual Petra Svehlova, a sommelier and Public Relations person for the company, met us. Our tasting included their Piedra del Sol Espumoso, a sparkling wine, as well as Contraste, a project unique to Casa de Piedra.
They make two varieties of Contraste, one a Continental, the other an Intercontinental wine. The Continental variety is a cooperative between a vineyard in Napa Valley California and themselves. The Intercontinental works with a vineyard in France.
Plan a free, by-appointment-only wine tasting at Casa de Piedra, the only free tasting in Valle. Then stroll up the hill for lunch at Conchas de Piedra, an upscale oyster bar, overlooking the winery.
You can expect some of the freshest seafood around at Conchas de Piedra. As you would imagine, the menu is heavy on the oysters, which you already know I can't eat. However, I did enjoy the mussels very much. This is saying a lot, as I do not normally care for them. They were served with an avocado mousse in a lemon rind, coriander, and parsley broth.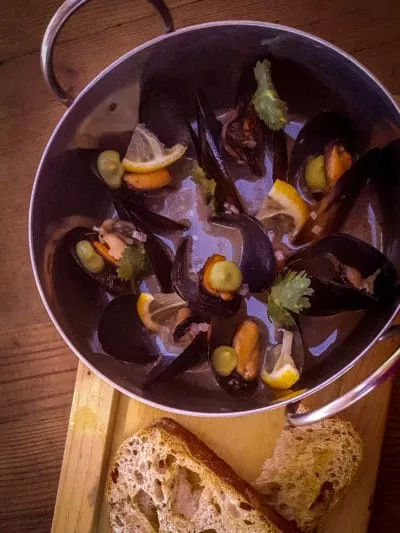 Stop by the Wine Museum
After a memorable lunch, we made our way to our last stop, Museo de la Vid y el Vino. Although we ended our visit to the museum, this stop could have been at any point along the way. It happened to be last up for us because it sits on the edge of town when headed to Tecate, our final destination. If you come from that direction, make it first.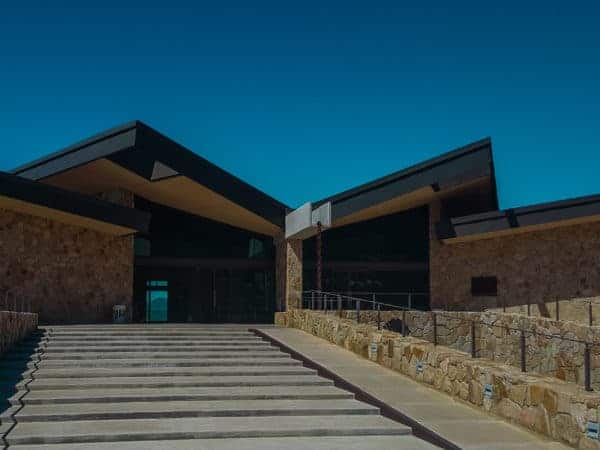 This combination event center and museum space serve many functions. The entire lower level is the museum dedicated to the history of winemaking including the introduction of vineyards to the New World. On display are some of the tools of the trade both past and present. In addition, while we were there, they had an art exhibition highlighting wine-related artwork in varying mediums.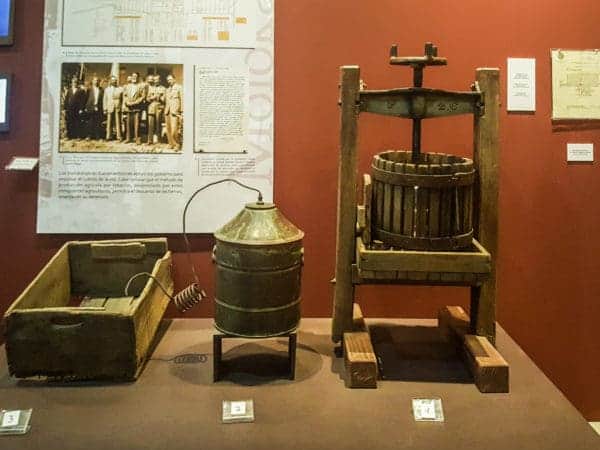 It is worth mentioning that all the information within the museum is in Spanish, However, you can glean quite a bit through images and artifacts.
This concluded our weekend trip to the Valle de Guadalupe. While much of what happens in Valle centers around food and wine, the region is not limited to that. On your visit, you might want to do some bike or horseback riding. Maybe you will give ziplining a go. If timed right, perhaps you will be able to attend one of the many festivals the area hosts. However you decide to spend your time, I'm sure Valle will leave a lasting impression.
Disclosure: I received compensation in exchange for writing this review. Although this post is sponsored, all opinions are my own. This post contains links to businesses where I may have been compensated. At this time, I do not receive any financial compensation by you clicking on a link.
Like this post?? Share it NOW!!