I first visited Rosarito, a delightful beach community in Baja California about an hour south of San Diego back in 2016. This is how I described it then: "This town has all the makings of a great little Spring Break town, likely because it was exactly that prior to the economic collapse of 2008. However, despite evidence of tough times, this town seems to be making a comeback."
**Disclaimer: Aspects of this trip were hosted, however, all opinions are my own. I strive to provide my readers with my most authentic sentiments.
I've since returned multiple times and my prediction was correct. However, I would say it is coming back as a more sophisticated community than your standard Spring Break resort. Today, you will still find Pappas and Beer, surf shops, and souvenir shops but you will also find fine dining and art not to mention some lovely places to rest your head.
If you are more of the adventurous type than the fine arts and gastronomy type, fear not, you can find that on the outskirts of town as well.
Top Things to Do in Rosarito Mexico
Get Your Adrenaline Pumping at Pikins Adventure Park
This fantastic adventure park features zip lining and a suspension bridge with a free fall. The apparatus spans a large ravine. A team of young hotshots leads you through the course as well as harnesses you to ensure your safety.
I won't lie. I've now done enough adventure activities in Mexico to confidently say that typically the safety protocols are a bit more relaxed than in the US. I was impressed by the standards at Pikin Adventure Park. That should mean something as my husband is a safety professional, so this kind of thing gets critiqued where ever we go.
I never felt unsafe here beyond the typical response of my brain telling my body "This is not normal. This could result in death." But that's a good thing.
Visit the Artists and Artisans at Artist Alley
It wasn't until my third trip to Rosarito that I learned about "Artist's Alley." On past trips, I was certainly aware of the stores selling massive wood furniture and brightly colored Mexican pots along the Free Road. What I learned on my most recent trip is that mixed among these shops are galleries and artisans' workshops. I had the pleasure of visiting a number of them on this trip.
You will find most of these places located near Kilometer 30 on the Free Road. Park anywhere, get out and stroll the street.
I recommend you look for the woodshop of Juan Bosco Lopez, Casa la Carreta (km 29.5). This third-generation woodshop crafts fully custom furniture made to your specifications.
Also, make it a point to visit the shop of metalcrafter Edgar Orozco. La Iguana Iron Garden (km 29.5). Orozco, handcrafts custom wrought iron furniture, electric fixtures, gates, and even sculpture. If you can dream it, he can build it.
If more traditional fine art is more your thing, stop by Polo's Gallery (km 33). Here you will find the works of more than 20 local artists in a variety of mediums including oils, clay, and jewelry.
Drop in next door at the Montecristo Gallery. This is not only the artist's gallery but also his studio. Therefore, on most days you can find him there. He is more than happy to tell you all about his work, its evolution, and the thought behind it.
Sample Tequilla at Mercado Del Mar
If you're a tequila drinker you're not going to want to miss this but it's easy to do if you don't know where to look. Located on the Free Road at Kilometer 29.5, look for the bicycle mounted on the highway divider. Almost directly across from here is Mercado del Mar.
Head into the market and to your left. Just keep going through the market and you will hit it; a giant liquor store selling only tequila (plus a few local wines). It's tequila beyond belief. With over 500 brands in every price range, you are sure to find one that suits your palate and your purse.
Here's a tip for you, if you visit La Iguana, the market is nearly next door. Ask Edgar. He'll probably stop what he is doing and take you there himself.
Give Surfing a Try
All along the Free Road, you can find spots to surf but this is particularly true south of Rosarito. However, near the fishing pier, you can find surfing suited to all skill levels. If you are in need of lessons, there is a school right in town, Local Surf School and Shop. For experienced surfers (or skateboarders) in need of wax, bodyboard, or a new pair of shades, Baja Reef is your spot.
Horseback Ride on the Beach
A favorite pastime in Playas de Rosarito is horseback riding on the beach. Step onto the beach near the Rosarito Beach Hotel and you will find vaqueros (cowboys) waiting with their horses.
Luxuriate in a Spa Day
When traveling I love to take advantage of spa services whenever possible. As you would expect, the larger hotels have on-site spa facilities. I had an opportunity to check out both Casa Playa Spa at the Rosarito Beach Hotel and the Spa at Las Rocas. Unfortunately, I was unable to indulge in either, as time did not permit.
Casa Playa, a two-story facility, with Spanish-inspired embellishments is a full-service spa, including therapy rooms, Jacuzzi, a sauna, and a relaxation room. This is a true day spa and includes services for men, women, couples, and kids ages 6 – 16.
Like Casa Playa, they offer services to men, women, and couples.
Ride an ATV on the Beach
Las Rocas is all about the view and their spa is no exception. Soak in a Seaweed Bath or have a Margarita Pedicure while gazing out over the blue waters of the Pacific. What could be more relaxing?
Ride along a sandy ridge high above the ocean in Primo Tapia. Located on the Free Road about 20 minutes south of Rosarito you can't miss the massive sand dunes. You will also see signs for ATV and Motorcycle rentals. You can rent from any number of outfits. However, be aware of safety precautions.
If you are content to ride on the beach, you can do that in town. Riding is permitted just south of the Rosarito Fishing Pier and arrangements can be made at the Rosarito Beach Hotel.
Shop Til You Drop in Rosarito
If you have a sweet tooth or if you are looking for some authentic goodies to take back to the US, you won't want to miss Dulceria Ayala. Looking for a piñata, they have oodles to choose from. Need a thoughtful, inexpensive souvenir, pick up a nice-sized bottle of pure Vanilla Extract for around $4.
Additionally, along the main boulevard, you can find cigar shops, jewelry stores, and souvenir stalls. Be sure to wander into the narrow side alleys as you will find many more stalls there.
Awesome Places to Stay in Rosarito
Las Rocas
Las Rocas is all about location, location, location! Situated high above the Pacific Ocean just south of Rosarito, Las Rocas offers stunning ocean views. This resort has all the amenities you would expect including multiple pools, bars, a restaurant, and a full-service spa. You never need to leave but if you choose to do so, you are quite conveniently situated to Rosarito and Puerto Nuevo.
You can expect Hacienda-style rooms with exposed wood beams and many with a working wood fireplace. If you are there on a chilly evening like when I visited, they will have someone come to start the fire for you. Also, all the rooms face the ocean. I had a walk-out on the ground floor. The rooms on the higher levels all have balconies.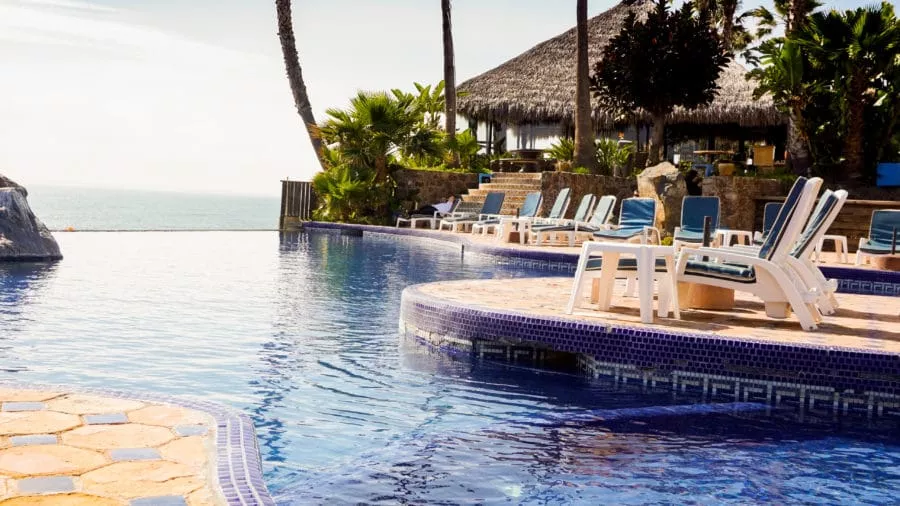 You shouldn't have any trouble finding this place. Las Rocas is located across the street, beneath the giant Jesus statue perched on the hill. This provides an easy landmark for you.
Find a great offer on Los Rocas through Expedia.
Rosarito Beach Hotel
Rosarito Beach Hotel (RBH) is the oldest hotel in Rosarito. The resort dates to the early 1900s and began as a hunting lodge. The original 12 rooms still exist today but with the addition of three other buildings including the 17-story Pacifico Tower, the resort boasts over 500 rooms.
I stayed in a Grand Suite in the Pacifico Tower. The unit was spacious with a combined kitchenette and living area that had a balcony overlooking the Pacific Ocean. My accommodations had a separate bedroom with its own television and king-size bed plus a bathroom with both a soaking tub and large shower.
Pikin Campground, Bungalows, and Adventure Park
Pikin is an excellent choice for budget-conscious families, adventure-seekers, and those seeking unique accommodations.
Remember that Adventure Park I told you about with the zip lining? Yup. This is the same place. In the ravine below the zip lines and suspension bridge is a campground, complete with a swimming pool and outdoor facilities.
If cooking outdoors is not your thing or if you are simply looking for a cocktail, there is a bar and restaurant on site.
For those not into camping or perhaps looking for something a little different, at the top of the ravine overlooking the ocean Pikin's has little bungalows available for rental. How do you feel about zip-lining to breakfast?? OK. That's not how you get there but you could.
The Best Restaurants in Rosarito
Susanna's
This is a warm inviting cantina with heavy wood and wrought iron décor. The open kitchen situated prominently in the front of the restaurant offers gourmet comfort food. Much of the menu is based on classics but with a non-traditional twist. Additionally, Susanna's owner, Susanne Stehr prides herself in offering her customers great wines from the Baja California region.
I had the Blue Cheese Fettucine Alfredo; pasta in a blue cheese sauce served with green apple and toasted pecans topped with a choice of grilled chicken or shrimp. It was quite tasty but a bit heavy. I'm a big eater and couldn't finish. If I had, I would have had no room for dessert. We had one of each of the desserts brought to the table so we could sample them all. My favorites were the Chocolate Fudge Cake brushed with Kahlua and topped with ice cream and the Homemade Bread Pudding.
La Casa Del Pescador – Puerto Nuevo
Lobster. Lobster. Lobster. And I might add location.
In Puerto Nuevo, a small fishing village south of Rosarito, you will find lobster is a staple on every menu. If you ask around everyone has their personal favorite restaurant for this delicacy. However, La Casa Del Pescador seems to be a local favorite not only for its fresh seafood but also for its hospitality. And the location right on the water isn't bad either.
We arrive shortly before sunset and sat on the rooftop seating area so we could enjoy the view. We were there in the off-season so we had no trouble getting a primo table but I would bet they are hard to come by during peak season.
Tacos Yaqui
I'm just going to say, "best ever." This small taco stand on the corner of Mar Del Norte and Calles de la Palma prepares its meat outdoors over an open flame. These amazing tacos are served in a warm flour tortilla. And what a friendly bunch of people. The owner, Yaqui is quite the character. You can tell he loves what he does and the people too.
Restaurant El Nido
While predominantly a steak house, this nearly 50-year-old restaurant offers an extensive menu and serves breakfast, lunch, and dinner. El Nido's menu includes both American and Mexican favorites. But in addition to those choices, they also offer some unusual choices such as quail, quail eggs, and venison. These unusual options are raised locally on the owner's farm. I suggest you don't shy away from the quail eggs.
Like many of the restaurants in Baja, they prepare their tortillas on-site and serve them warm. Originally a bar, El Nido offers a full bar menu and wines from the region.
Breakfast Bonus
Breakfast is my favorite meal of the day. I'm one of those people that is happy to eat breakfast at any time of day. The hotels surprisingly offer some delicious Mexican breakfasts. Allow me to add, I'm a fan of Huevos Rancheros. Since I can't seem to get good ones on the East Coast where I live, I tend to eat a lot of them when in Mexico.
The Azteca Restaurant and Bar located within the Rosarito Beach Hotel offers a traditional Mexican breakfast and on the weekend, the restaurant serves a full American and Mexican buffet-style breakfast. When I visited I had a breakfast of Huevos Rancheros and black beans along with coffee and fresh-squeezed orange juice.
Los Rocas serves up some fantastic Huevos Rancheros. And not only are they delicious but the chef delivers a pretty plate.
Another thing to love about Mexico is the availability of fresh juices. Los Rocas serves not only fresh-squeezed orange juice but also fruit and veggie blends.
With Rosarito offering so much and its close proximity to San Diego and Tijuana, you really should plan on making it part of your two-nation vacation or a weekend escape from the city.
Like this post?? Share it NOW!!