Seemingly overnight, Valle de Guadalupe, Baja's Wine Country has exploded on the scene with some amazing places to eat, sleep and sample the local wine. Commonly known as "Valle," the region is located just two hours south of San Diego in Baja California, Mexico. Valle is easily accessible from both the north and south on Route 3.
**Disclaimer: Aspects of this trip were hosted, however, all opinions are my own. I strive to provide my readers with my most authentic sentiments.
This region marked by arid weather, moderate temperatures rugged mountains, and tranquil valleys is a prime location for growing grapes (and olives) and a first-rate weekend getaway for wine lovers. If you visit, I suspect you will be pleasantly surprised by the wine quality as Valle's wines rival those of Napa Valley.
In addition to having more than 120 wineries, the region has become known for its upscale dining in a relaxed atmosphere. Baja Med cuisine is the fare most associated with Valle. Several of the acclaimed chefs, including a few Michelin Star chefs, from California, have opened restaurants in the region providing some tough choices for diners.
If you are looking to spend a couple of days in Valle de Guadalupe, I've written a two-day itinerary to help you make the most of it. But whether you come for a quick overnight getaway or stay for a week, you will need someplace to rest your head and you will certainly want to sample the extraordinary cuisine of the region.
To help you choose the right high-demand places to eat and the best place to sleep, I have compiled the following lists.
6 Awesome Restaurants in Valle de Guadalupe
If you plan to eat in Valle, I sure hope you like alfresco dining because I can't think of one place to eat that is indoors. Some restaurants have indoor and outdoor options, but with such an ideal year-round climate and amazing scenery, alfresco is the way to go.
Malva
A few years ago I had the pleasure of enjoying lunch at Malva, Chef Roberto Alcocer's award-winning restaurant. This fully open-air establishment sits perched on a hillside overlooking the valley and onward to the mountains in the distance, Malva is a little piece of heaven and an excellent example of farm-to-table Baja Med cuisine. Here is a nice description of Baja Med Cuisine.
One could not ask for a more spectacular view or fresher food. Many of the herbs and vegetables used in the meal preparation grow on-site. In fact, while taking pictures I saw one of the cooks clipping flowering herbs from the garden. Shortly thereafter, those same flowers were on my plate. Dishes include locally sourced seafood from the nearby coast and meats from local farms.
With 1900 miles of coastline, it is no wonder fresh seafood is a staple on every menu. Chef Robert's presentation of fresh oysters on a bed of salt garnished with rosemary was so lovely. However, despite my love of oysters, I am allergic, so, I was brought a swordfish appetizer. Aware of my allergy Chef Robert surrounded the dish with a ring of cornmeal that was intended to protect me from the oysters. Whether effective or not is questionable but the extra effort was appreciated.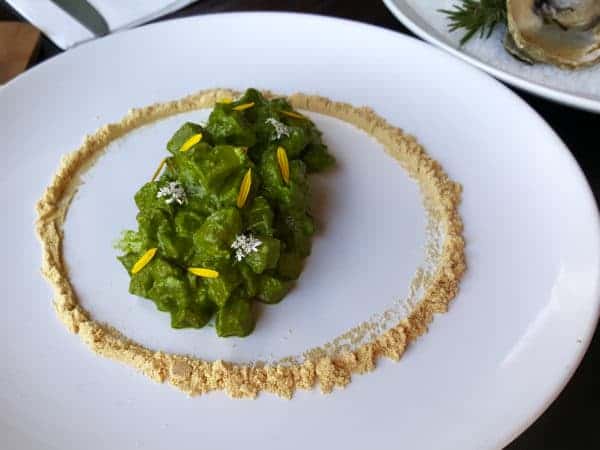 Campestre at Vina de Frannes
This is one of those rare places I mentioned that have both indoor and outdoor seating options. But regardless of where you decide to sit, you will have front-row seating for taking in the beauty of Valle. Campestre with its floor-to-ceiling windows provides an open inviting space.
We were there on a beautiful spring day and chose to sit outdoors despite there being a nip in the air when we arrive. Really, sitting outdoors seems like the only option for me. The deck area is just steps from the vineyard and makes you feel like you're a part of the landscape.
We enjoyed some delightful conversations with Carlos Mariscal Ortega, the sales manager for Vina de Frannes over lunch. As we enjoyed a tuna starter, roast pork leg, which was a special, basil ice cream (yes, you read that correctly), and the most alcohol-laden (and yummy) Tiramisu I've ever tasted. Naturally, all the courses were paired with wine.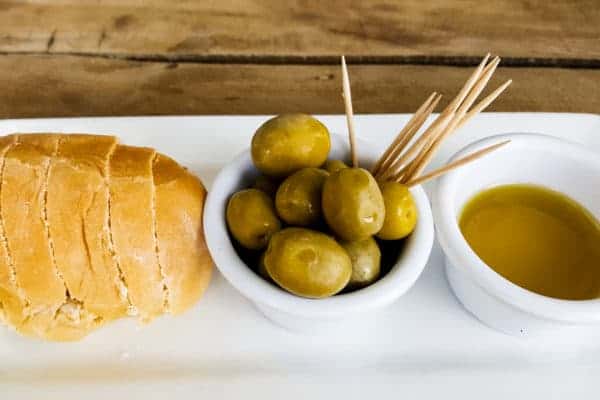 Additionally, Vina de Frannes, like many other wineries in the region grow its own olives. We had a sampling of their olives and olive oil. If you've never had an olive oil sampling, I suggest this is something you ought to do. You will find the oil too much more complex than you might have thought.
Deckman's
If Malva sounds interesting to you then, Deckman's might be another great option. Both operate on a similar philosophy. I would call Deckman's an award-winning, alfresco farm-to-table Chophouse but the menu is not limited to meat. The menu also features fresh sustainable seafood from the Baja peninsula.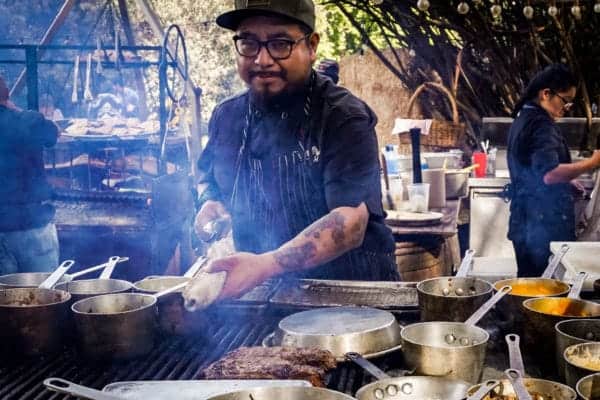 Slow food graces the menu at this outdoor eatery with a massive open-air kitchen. Deckman's is all about the ingredients and true sustainability. All ingredients used in preparation either come from their ranch or are locally sourced. They do not even serve bottled water or soda. They collect rainwater for use in irrigation and recycle glass, plastic, and cans. In every way, Deckman's is the antithesis of fast food.
Conchas de Piedra at Casa De Piedra
Plan a free, by-appointment-only wine tasting at Casa de Piedra, the only free tasting in Valle. Then stroll up the hill for lunch at Conchas de Piedra, an upscale oyster bar, overlooking the winery.
You can expect some of the freshest seafood around at Conchas de Piedra. As you would imagine, the menu is heavy on oysters, which again are off-limits for me. However, I did enjoy the mussels very much. They were served with an avocado mousse in a lemon rind, coriander, and parsley broth.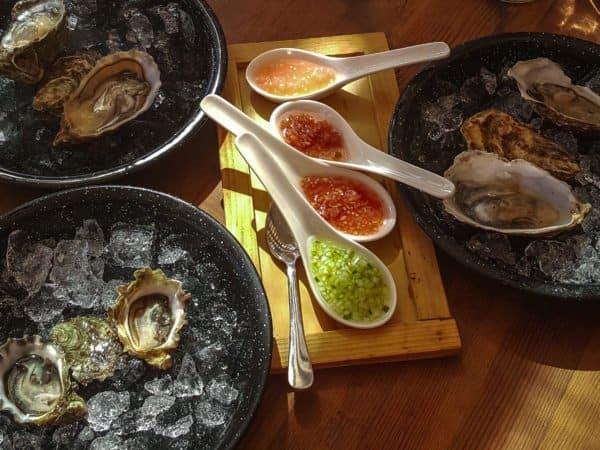 Bar Bura
In my opinion, Bar Bura is the gem of Cuatro Cuatros. This is a bar/restaurant located on a high cliff overlooking the Pacific Ocean. Getting there is a bit of an adventure on a winding dirt road with steep drops. But once there, the views are nothing short of breathtaking. So spectacular that there are even views from the bathroom stalls.
You could call the seating arrangement at Bar Bura a bit unconventional. Nothing more than hay bales draped in white cloth and embellished with accent pillows set around low tables. I suppose you could call it minimal.
Like many of the restaurants in Ensenada and Valle de Guadalupe, Bar Bura serves up Baja Med cuisine. And like most other dining options they have an octopus dish that is considered a specialty.
Pollos el Retorno
Let me begin by saying, I, unfortunately, have not had the opportunity to eat here. In fact, we stumbled upon it quite accidentally. However, if the smell tells us anything about the taste of food, this place has got to be amazing.
This roadside rotisserie serves up chicken cooked on a spit over an open fire. Sizzling chicken fat drips onto vegetables roasting below. Judging by the amount of poultry roasting that morning, I have to believe this place does a good business.
Pollos el Retorno is located along the main route in and out of Valle de Guadalupe (Route 3) almost directly across the street from the entrance to Maglen. I'll cover this in the accommodations section.
3 Delightful Places to Stay in Valle
After a busy day of wine tasting and eating your way through the Valle, you have quite a few options on where to rest your head. Here are a few places I have personally stayed at or visited.
Adobe de Guadalupe
In addition to being a boutique hotel, Adobe de Guadalupe is a working family-owned winery and olive grove. Staying at this authentic traditional hacienda is like staying at an old friend's home.
All common areas are open to guests; including the vast main courtyard, pool, and hot tub, as well as, the living room and dining areas. There are six spacious guest rooms, each named after an archangel. The décor of the rooms is similar but not identical. All are appointed with bold shades often associate with Mexico; blues, reds, and turquoise with terracotta floors creating a private oasis. Each room opens onto a shared central courtyard area with a large fountain and flowering plants. This provides an extension of your private refuge in the outdoors. Also, on-site are stables for the Aztec Sport horses bred by the owner. Horses are available for riding.
Wine tastings are part of the $250 US room rate, as is a full made-to-order breakfast. A tasting alone costs 180 pesos or roughly $10. Like the guest rooms, all the wines produced here are named after archangels. This is a tribute to the owner's son.
Maglen
Maglen Group offers three amazing resorts in one astounding location, Encinal, Tesela, and Las Villas. The resort is located off Route 3, at Km 90.8, making it easy to find.
Despite being on one property each hotel has a different feel. You will find the best way to move about this large site is by golf cart.
Encinal offers a meeting space on this end of the property. Additionally, you will find an open-air theatre used for live performances built into the natural landscape. Next, Tesela situated further up on the hillside offers accommodations in the form of individual cubes. These rustic modular-type rooms with floor-to-ceiling windows and a deck area offer stunning views of the valley. Tesela is all about being in union with nature. As lovely as the accommodations are you will have trouble staying indoors. You will want to be swinging on a hammock sipping a glass of local wine.
Finally, Las Villas sits atop a hill and is surrounded by a mature natural landscape accented with artistic statuary. This is the most luxurious of the three properties but also the most family-friendly. You will find simple, duplex, and nuptial suites. Like the other properties, all are distinctively decorated. The décor is warm and inviting with a natural feel.
In addition to a pool and playground, you will find event space, including a large room with the focal point being their wine cave. Plus, there are two restaurants on-site, HaChe at Las Villas and Cantera on the lower end near Encinal.
Cuatro Cuatros
Cuatro Cuatros offers a different kind of stay. This is glamping at its finest. Situated on a massive sprawling 144-acre property, Cuatro Cuatros offers luxury accommodations, an open-air restaurant, multiple bars, and of course wine tasting experiences.
Cabanas are located in the valley near the winery and elevated to afford splendid views of the vineyard from their terrace. They have full baths, a mini-bar, a fireplace, and air conditioning. Rates start around $200 US per night and there are only 19 units.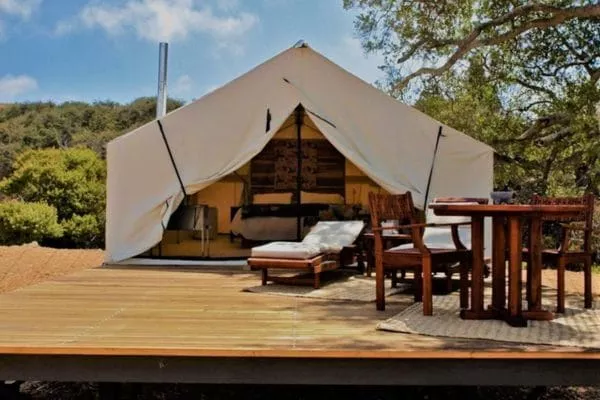 No matter where you eat or sleep in Valle, expect the wine to be a point of interest. It seems that no respectable business in the region would dare operate without offering its personal brand of vino. Or perhaps the theory is to work with what you have and give the people what they want. Either way, I think you will find a trip to Valle de Guadalupe delightful.
Like this post?? Share it NOW!!